YGM Reflective specializing in manufacturing reflective material, luminous material, optical variation material, temperature variation material, thermal isolation material, UV resistant material, and derivative products for 15+ years.ENISO 20471 & ANSI 107 certificated.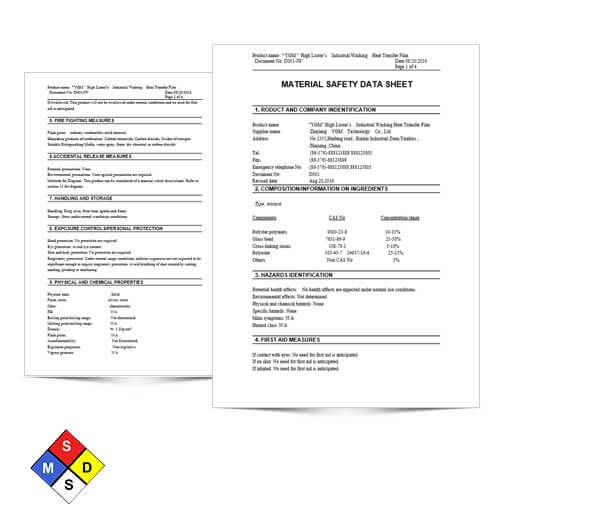 MSDS stands for Material Safety Data Sheet. It can also be referred to as the PSDS, SDS or WHMS. This system is in place to inform the user on any risks that are linked to the materi- als and/or ingredients that are being used
UL is one of several companies approved to perform safety testing by the U.S. federal agency Occupational Safety and Health Administration (OSHA). OSHA maintains a list of approved testing laboratories, which are known as Nationally Recognized Testing Laboratories.
Oeko-Tex Standard 100 certifiesconfirm the human-ecological safety of textile products and leather articles from all stages of production along the textile value chain.This independent testing and certification system may be applied to textile materials, intermediate products at all stages of production and ready-made textile articles.
ENISO 20471:2013 is an International Organization for Standardization technical standard describing requirements for high-visibility clothing, along with methods for testing and confirming that clothing meets those requirements.
The ANSI/ISEA 107 standard defines three classes of successively more-visible garments, to protect workers exposed to successively higher levels of risk from motor vehicles and heavy equipment. The International Safety Equipment Association developed the standard, with revisions in 2004, 2010 and 2015.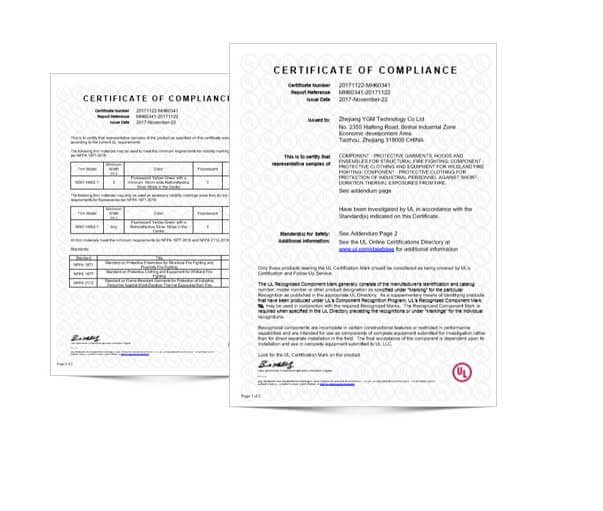 ISO 9001:2015 Quality management systems — Requirements deals with the requirements that organizations wishing to meet the standard must fulfil.Only ISO 9001 is directly audited against for third-party assessment purposes.
ISO 14001 defines criteria for an EMS. It does not state requirements for environmental performance but rather maps out a framework that a company or organization can follow to set up an effective EMS. It can be used by any organization that wants to improve resource efficiency, reduce waste, and reduce costs.
EN 469 Protective clothing for firefighters – Performance requirements for protective clothing for firefighting – This European Standard specifies minimum levels of performance requirements for protective clothing to be worn during firefighting operations and associated activities such as e.g. rescue work, assistance during disasters.
EN 1150 outlines the use of both fluorescent background fabric and retro-reflective material to achieve enhanced conspicuity against most background conditions found in urban and rural situations both day and night.Performance requirements for the colour, retro-reflection for minimum areas and the placement of the materials are also given by the standard.