Your Trustworthy Reflective Tape
Manufacturer Supplier
Your Reliable Reflective Tape Supplier
Multiple Types | Customized Stripes & Logos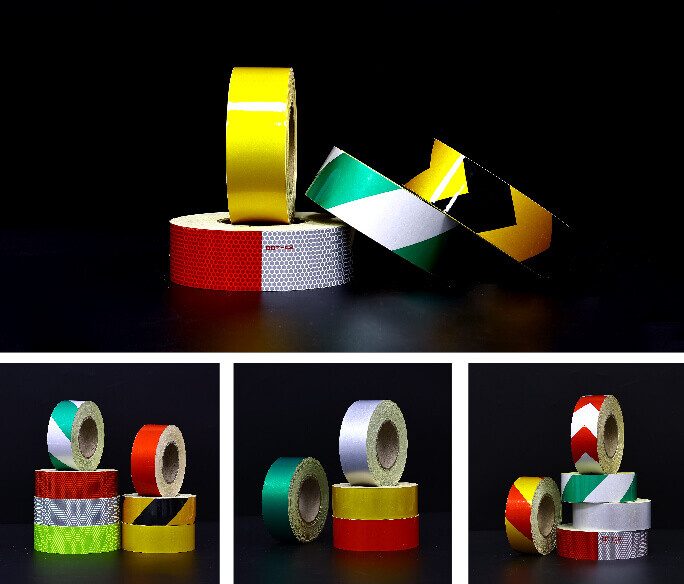 Looking for reflective tape manufacturers? At YGM, we're pioneers when it comes to all-things-reflective. We've got all kinds of reflective material here in different series based on their reflective quotient.
The self-adhesive kind of reflective tape is a multifaceted tape that's not limited to logo decor. You can use it to design and highlight advertisements on boards, traffic boards, automobiles, helmets, cycles, construction zones, boats, shopping centers, and many more things easily today.
Reflective tape comes in several types of materials from Acrylic to PC, PVC, and PET. There are several varieties of this type of tape and the lifespan of different series ranges from three to five, seven, and ten years. It's available in several colors and dimensions as per your request too.
Why choose YGM Reflective Tape?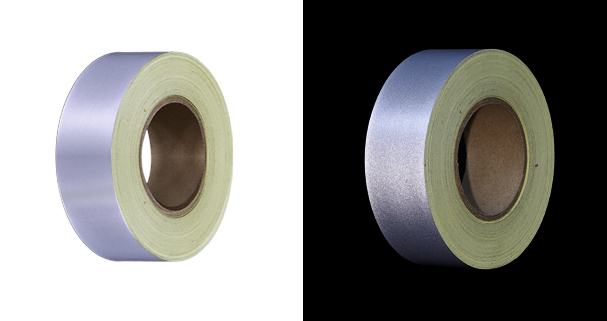 Advertisement Grade Reflective Tape

Types: There are two types of reflective tape used for advertisement called PET and Acrylic.
● PET: This is the type of reflective tape that's not tearable. It's easy to operate and cut via computerized equipment.
● Acrylic: This is a tearable type of reflective tape that can be screen printed. It can be stretched to a good length and it's easy to cut via computerized equipment.
Features:
● Lifespan: Up to 3 years
● Operating temperature:
○ PET: 5℃ to 30℃
○ Acrylic type: 18℃ to 28℃
● Color: Available in multitudes of colors from white to yellow, red, green, blue, orange, brown, and black. At YGM, we also have many customized options.
Advertisement grade reflective tape is a special type of material that's easy to customize in different colors, dimensions, and available with basic and special features as per your requirements. It has a wide range of applications from advertisement signs, propagandistic signs, and temporary work zone signs.
Double Color Reflective Tape

Types: At YGM, we have two types of double color reflective tape called PET and Acrylic, where both are ideal for screen and ink-jet printing.
● PET: A type of double color reflective tape that won't tear up.
● Acrylic: If you go for this variety, keep in mind that it's tearable.
Features:
● Lifespan: Up till 3 years
● Operating temperature:
○ PET type: Between 5℃ to 30℃
○ Acrylic type: Between 18℃ to 28℃
● Colors: You can get the double color reflective tape in shade combos such as red-white, yellow-black, yellow-red, orange-white, and blue-white.
Double color reflective tapes are a unique type of reflective material that offers different reflectivity quotients in one item. You can use it for advertisement signs to traffic boards, roadside signs, flexes, and more.
Engineering Grade Reflective Tape

Types: When you're interested in engineering-grade reflective tapes, there are two options available PET and Acrylic types.
● PET: The untearable variety of engineering-standard reflective tape, PET type is easy to operate on and relatively easy for cutting via computers.
● Acrylic: A tearable variety of reflective tape, this is a variety that's perfect for screen-printing with good stretchability and easy-to-cut via computers.
Features:
● Lifespan: Up to 5 years
● Operating Temperature:
○ PET: 5℃ to 30℃
○ Acrylic: 18℃ to 28℃
● Colors: You can get this high-quality reflective tape in tones such as yellow, white, green, red, orange, blue, black, and brown.
Engineering-grade reflective tapes are made with a laser focus on quality. It's typically used for road traffic signs, advertisement boards, safety signs in varied industries, signboards, and so on. It also lasts a long time. We also accept customization requests, so feel free to ping us with the same.
High-Intensity Grade Reflective Tape

Types: When it comes to high-intensity grade reflective tapes, there are three different varieties to choose from; namely PET, PC, and PVC.
● PET: Made from the material Polyethylene terephthalate, this is an untearable type of reflective tape with high reflectivity.
● PC: A Polycarbonate material of reflective tapes that are also not tearable, this type of reflective tape can be screen printed and possesses high reflectivity.
● PVC: This is a Poly Vinyl Chloride reflective tape that's also strong enough not to tear up and it's perfect for screen printing and ink-jet printing.
Features:
● Lifespan:
○ PET: 5 years
○ PC: 7 years
○ PVC: 3 years
● Operating Temperature: All three types range from 5℃ to 30℃
● Color: You can get three of these high-intensity reflective grade tapes in color options ranging from yellow to red, green, brown, white, and brown.
A special type of reflective tape made for durability and high visibility, high-intensity reflectivity tapes are easy to customize according to your demands of dimensions and colors. This type of tape finds its application in the traffic industry, generally on signboards, highway boards, city roads, ships, cars, and other motor vehicles.
Red Silver Reflective Tape

Features:
● Lifespan: Up to 7 years
● Operating Temperature: 5℃ to 30℃
Red silver reflective tapes are yet another variety of reflective tapes that's useful in bad weather conditions and will guarantee high reflectivity, high visibility, and excellent adhesion. You can use this tape on trucks, boats, trailers, mailboxes, helmets, backpacks, cycles, etcetera.
High-Intensity Prismatic Grade Reflective Tape

Features:
● Lifespan: Up to 10 years
● Operating Temperature: 18℃ to 28℃
● Colors: High-Intensity Prismatic reflective tapes are available in two colors white and orange.
A type of reflective tape with a prismatic effect, this is a unique item that's smoother and of a higher quality than the available options. You can use such tape on highway signs, traffic boards, crossings, and even to mark vehicle areas for high visibility when driving in extreme weather and low visibility conditions. The best thing is it comes with high durability.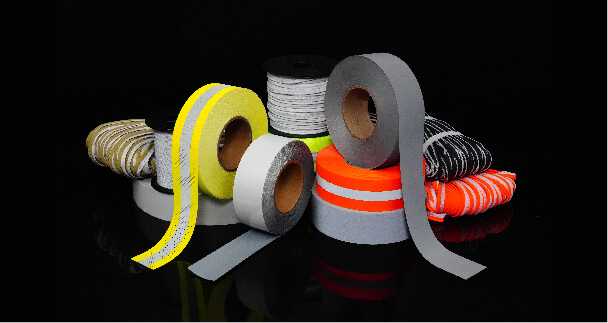 YGM manufacturers a high number of reflective tapes today that can be applied using a number of methods like sewing, hot pressing, etcetera, on clothing products like jackets, pants, vests, workwear, and so on.
Take a look at the 'Reflective Tape for Clothing' product guide from us that explains 18 types of reflective tapes to know more about it.
Reflective tape:
The Complete Buying Guide
Clear your doubts and concerns about reflective tape china today with our in-depth Q&A below.
What is reflective tape and how does it work?
Unlike ordinary tapes, tapes made of reflective material work by a special principle known are retro-reflectivity. At YGM, all our reflective tapes are made with self-adhesion. Because reflective tapes contain glass beads that work by accumulating light, you need a light source to illuminate the reflective tape.
Once the light falls on the glass beads, it ultimately focuses the rays and bounces them back to the source. There's an aluminum reflector behind glass beads that help to reflect the light beam too. That's how it works to light up in low-visibility conditions.
What types of reflective tape does YGM offer?
YGM has a long list of reflective tapes under its sleeve. Take a look at our top options below:
Advertisement grade reflective tape: This is a type of reflective tape with a service life of three years. It's available in both untearable PET and tearable Acrylic material that's easy to operate, cut with a computer, and comes with good stretchability.
Double color reflective tape: Another type of reflective tape a lifespan of three years, this type of tape is also available in PET and Acrylic materials and good for screen and ink-jet printing.
Engineering grade reflective tape: One of our best reflective tapes with high-grade reflectivity, you can get this item in PET and Acrylic types with a lifespan of around five years.
High-intensity grade reflective tape: Available in PET, PC, and PVC materials, the lifespan of this type of tape ranges from three to seven years.
Red silver reflective tape: An ideal reflective tape that resists extreme weather conditions, red silver tape brings high visibility with a service life of around seven years.
What should I know before ordering reflective tape? What are the most important things to keep in mind?
When you're ordering from reflective tape manufacturers, the first thing to keep in mind is the type of tape. As there are several types of tapes available with YGM, you should figure out which one you like the most.
Alternatively, you can send us a detailed inquiry with your requirements and our expert sales executives will help you determine the tape you need.
But the most important thing to keep in mind is the application of the tape. Are you look for reflective tape for traffic signs? Is it for construction-related signs? Do you need it for trucks? Perhaps you need it for advertisement boards or personal equipment like helmets or cycles. Hence, first, determine its application.
Also find out the specifications necessary based on types such as PET, PC, PVC, or Acrylic. You can also note down the color you need, features you're looking for, the lifespan of the tape, dimensions, and so on too.
What are the main materials used by YGM to create reflective tapes?
Constructing a reflective tape isn't done with usual items; it requires many special things.
The first layer is a surface protection layer to protect from degradation and to improve the durability of the reflective material. It's followed by the resin layer that helps to improve the reflective nature of the tape.
After this, we add the micro glass beads that are inevitable for guaranteeing reflectivity. It's succeeded by the focusing layer that helps to concentrate the light beams and the reflective layer that coats the the glass beads in half. Finally, you'll find the adhesive layer that you can use for application which is typically protected by the lining paper.
In some reflective tapes, you'll also find air layer between the surface protection and the micro glass beads.
What are the key features of reflective tape?
Reflective tape is a unique type of material made with many technical reasons in focus. Let's take a look at it:
Durable: Reflective tape comes in two different materials PET and Acrylic, where one is tearable and the other is untearable. Depending on the durability you prefer, choosing the base material thusly.
Comfortable: The reflective tape doesn't add a lot of weight to the part you apply it on. In short, you don't have to worry about burdening the signboard when applying the same.
Dustproof: Whether you apply the YGM reflective tape on a signboard in the desert or any other similar dusty areas, you don't have to worry about damages from dust. These tapes are built to resist dust and dirt.
Windproof: Windy conditions and other extreme weather conditions is capable of damaging tapes and reducing its lifespan but YGM reflective tapes aren't like that. You can trust it to last a long time without going through the adverse effects of wind.
Waterproof: While not all out tapes are waterproof, we do have options that can resist water and other wet conditions from degrading the quality of the tape.
Heat-resistant: Are you planning to use the reflective tape where the sun is scorching? As an added benefit, most of our reflective tapes are also in-built with UV resistant material.
Rust-resistant: You can be sure that rust and grime will not derail the quality of our reflective tape and it will stand the test of time for a long time.
Versatile: When it comes to YGM reflective tapes, these are easy to cut with standard equipment like computers. Some of our varieties are also excellent for screen printing and ink-jet printing.
What colors of reflective tapes are available?
When you're thinking of reflective tape wholesale, there are many colors to choose from. At YGM, you can pick from shades like Orange, Silver, Red, Blue, White, Black, Green, and Yellow.
Is reflective tape waterproof?
Selecting a reflective tape isn't like buying groceries. It comes with a ton of responsibilities. That's why you need to know if it's resistant to materials like dust, wind, heat, and water. When it comes to water resistance, our tapes are 100% waterproof. If you're still concerned about specific reflective tapes, talk with the sales representative to cross-check your query directly.
How should the reflective tape be washed?
The washing requirements of different reflective materials aren't the same. When it comes to reflective tape that's also self-adhesive, washing requirements are different. As it's not made from a reflective fabric, you don't need to clean it with water every once in a while. Instead, you can just dust off or pat dry with a soft cloth to keep it clean from grime.
What are the quality control measures employed by YGM for making reflective tapes?
We take the quality of our reflective materials very seriously at YGM. That's why we have a thorough process of QC to ensure every piece of reflective tape you get is guaranteed high-quality.
When it comes to the reflective quotient of the tape you ordered, it varies from color to color and series to series. Our QC experts use an instrument that measures the inverse reflection coefficient to ensure every tape has high reflectivity.
When it comes to the operating process, the voltage is adjusted to 5.5V before putting it to use. Afterward, the instrument is calibrated with 3M reflective tape and the reflectivity here is ensured to attain 520±5cd/lx/m². Finally, the sample is tested for its reflectivity.
The second part of quality control is to check the peeling strength which is tested by a machine to check the release force of the reflective tape at 90-degrees. Ideally, anything lower than 30gf is good.
This is conducted by preparing the sample. To do so, the double-sided tape adheres to a backing paper of the tape and then a small sample of dimensions 2.5cm x 30cm is cut out. Next, the sample is assembled by tearing out the double color tape. One part is stuck to a side of the sample on the testing board and the backing paper is removed. At last, parts that fall off the testing board are cut out and the test board is assembled on the machine. The experts will then test the release force of the tape at 90-degrees by peeling it at a speed of 300mm/min. Here, the release force is ideal when it's lesser than 30gf.
The adhesive strength of the reflective tape is tested using the tensile testing machine. It must be higher than 5N in any case. The operating procedure starts with the testing of the sample. Here, a small cut-out is prepared at dimensions 2.5cm x 30cm. The excessive tape is torn off at each end.
Next, the sample is bent in half and placed on the tension clamp by placing the adhesive face downward. The machine is lowered and then raised to record the test values. Here, the initial adhesive is ideally higher than 5N.
What are the uses of reflective tape?
There are scores of advantages of using reflective tape today. Let's look at its main applications below.
Advertisements: You can use reflective tapes to highlight your advertisements in extreme visibility conditions.
Traffic: The best way to put up signs that stays visible under all weather is possible with reflective tapes.
Construction: If you need signboards to help employees out at your site, there's no better option than reflective tapes.
Shopping centers: For outdoor signboards in shopping malls, tapes with high reflectivity work excellently.
Roads: Any type of marking on the road is better accompanied by reflective tapes to improve visibility.
Machines: You can increase the visibility of your machines and anything within the factory or warehouses with reflective tapes.
Parking: To highlight spaces in parking garages, reflective tapes can be an ideal option.
Boats: When you're traveling on water, reflective tapes can keep your boats lit up at night to prevent accidents.
Automobiles: Cars and even cycles can be affixed with reflective tapes to improve its visibility.
Personal equipment: From helmets to camo pads, there are many options to increase the reflectivity when you travel with respective tapes.
From marking hazardous areas in parking garages, warehouses, hospitals, shopping centers, roads, factories, machinery, etc. Also can used to stick on signs, trucks, all different types of trailers, boats, mailboxes, cars, helmets, cycles, and more.
Does YGM Manufacture reflective tape? Can I order reflective tape from YGM?
Yes, YGM is a popular and trustworthy reflective tape supplier and manufacturer and not just a wholesaler. We have over 16 years of experience and the capacity of producing millions of square meters of reflective tapes as per your demand.
YGM has a wide variety of reflective tapes from advertisement grade to engineering-grade, high-intensity, double color, red silver, and high-intensity prismatic tape too. If you've specific demands or a new idea, don't hesitate to connect with our representatives and we might be able to help you out because we have large factories capable of doing just that.
All you need to do is send us an inquiry listing your needs and necessities and we'll get back to you ASAP.  The best thing is we're also open to customization as per colors, dimensions, and more. Just shoot us a message and we'll get you everything you need.
What is the size of YGM reflective tape?
When it comes to the dimensions of reflective tapes, not all series are built the same way. As different types of reflective tapes are used for different purposes, their dimensions also differ.
Typically, we have tapes with widths ranging from 3 cm to 4 cm, 5 cm, and higher. If you meet our Minimum Order Quantity, we can even customize unique dimensions of reflective tapes based on your demands whether it's a standard size or not because we've state-of-the-art equipment at our own factories to make it happen.
Can I order a custom-size of reflective tape? Are the specifications customizable too?
Because YGM is a manufacturer and not just a wholesaler, we find it easy to customize reflective tapes according to your requirements, no matter what you want. Whether you're interested in a specific color, dimension, or feature, we can personalize reflective tapes to fit your criteria easily. We can even help you create new items in case you have in-depth ideas and designs.
Send an inquiry right away!
How long does it take for YGM to produce and deliver my order of reflective tape?
YGM is strict about sticking to deadlines. Once we receive your order, our executives try their best to meet the requirements as quickly as possible. Typically, our delivery time ranges between 25 to 35 days depending on whether the item is customized or not. For more details about the lead time for the items you're interested in, get in touch with our executives right away as it may differ from order-to-order.
Does YGM offer free samples for reflective tape?
Definitely. At YGM, you don't have to worry about paying for sample pieces. The truth is, we can send you samples no matter what type of reflective tape you want. Our delivery executives will send you the selected reflective tape sample in the A4 size (29.7 x 21 cm). The best thing is, you don't need to pay for these samples and we will cover its production charges.
All you've to pay for is the shipping cost for the sample to reach your doorstep. Even the freight charges will be refunded once you confirm the order. Typically, we'll deduce the cost you paid for shipping from your confirmed order.
Are YGM products always available and in stock? Do I need to pre-order and await new stock for months after ordering?
When it comes to generic products, which are the products you already see on the website, we have a quick lead time. You don't need to wait for restocking when ordering these products as these are already available. In case you want to confirm, get in touch with our sales experts and they will help you confirm the same based on how many products you want to order at a time.
However, for custom products the specifications are different. As these products need to be designed and produced independently according to your stipulations, production takes a lengthy time. Typically, the delivery time for custom products isn't too long, but it may take 25 to 35 days if everything goes well.
How do you differentiate reflective HTV from reflective tape?
Reflective HTV is completely different from reflective tapes. For starters, it looks and feels different upon touch. The following will distinguish the other qualities between the two reflective materials. Take a look at it.
If you're talking about the reflective tape, it's coated with a lining or backing paper followed by the adhesive lining that feels strongly sticky when peeled out. This is a pressure-sensitive glue layer found exclusively on reflective tapes.
However, reflective heat transfer vinyl isn't composed of the backing paper as it's not a self-adhesive material. Instead, it has a protective film that's transparent. This lining covers the top of the vinyl material to protect it from degradation. The adhesive component here is hot-melt glue.
When you consider the application or use of reflective tape china, it ranges from advertisements to traffic signs, trailers, boats, cars, cycles, mailboxes, boards, and even on personal protective equipment like helmets. These aren't typically washable but are waterproof.
Reflective HTV can be cut with a knife or laser cutting machines into different logos and further hot-pressed onto clothes.
How do I ensure the reflective tape remains at its best quality?
The best way to make sure your reflective tape lasts as long as promised with the best quality is by following all the necessary requirements shared by the manufacturer. When you contact our sales experts, they'll let you know about what you need to do for the same. You should avoid washing as this isn't a fabric material.
If you have any concerns regarding any particular series of reflective tape, feel free to get in touch with our executives before or after ordering and we'll help you right out.
What type of packaging options do you offer at YGM for reflective tape?
When you're looking for packaging that will protect the item you've ordered besides standing the roughhousing of shipping and freight, YGM has got your back.
Our packaging options are as shown below:
Obverse show: This the first step of packaging where the obverse side is displayed to be clear and visible. It's packed erect.
Plastic bag packaging: Your order of reflective tapes is packaged within plastic bags first to prevent it from coming into contact with any type of liquid-related damages.
First box: Next, the reflective tape is inserted into a corrugated box as a basic coating. This is the internal packaging.
Final box: Finally, the reflective tape roll is packed into a thicker and durable corrugated box to prevent damage to the tape during shipping.
What is the total production capacity of YGM for reflective tape?
Whatever be your bulk demands, YGM is capable of completing the order. We have a big factor that's capable of producing about 3 million SQM of reflective tape. Even though we serve clients all around the globe, we have a huge factor that can be expanded to accommodate even more orders.
So, don't waste time; just send us an inquiry regarding your requirements and we'll take care of it.
How long does reflective tape last?
The service life of reflective tapes differs from one series to another.
Take a look at the list of service lives of different reflective tapes:
Three Years: A few tapes that can last up to three years are advertisement-grade tapes, double color reflective tapes, and high-intensity PVC tapes.
Five Years: Engineering-grade tapes and high-intensity PET tape last for half a decade.
Seven Years: For a longer lifespan, go for high-intensity PC-type tape or red silver tape that lasts up to seven years.
Ten years: High-intensity prismatic tape is capable of withstanding natural wear and tear for up to a decade.
What is the difference between self-adhesive reflective tape and reflective tape for clothing?
Reflective tapes are of different types. When it comes to reflective tape for clothing, the reflectivity quotient differs from 10 to 500 cd/lx/m² and even 8000 Mcd/lx/m². It's available in colors like silver, yellow, fluorescent, and more.
Reflective tape for clothing is excellent for sportswear, pants, t-shirts, shirts, dresses, jackets, vests, overalls, and even backpacks, hats, or shoes too. Such a tape can be washable and comes with many stipulations regarding the washing performance too. While not every series is flame-retardent, there are varieties that can resist fire hazards.
Reflective tape for clothing is typically made from 100% polyester, Tetron Cotton, 100% Aramid, 100% Cotton, and a mix of polyester and spandex (85+ 15% respectively). This type of tape is usually sewn on clothing.
When it comes to reflective tape with self-adhesion has a reflectivity range of 1 to 500 cd/lx/m². This type of tape isn't used on fabric and it typically appears on advertisement signs, traffic boards, helmets, construction zones, cycles, automobiles, and so on.
How many types of reflective tape and what are the features of each type?
There are many types of reflective tapes to choose from when you look at the YGM stock and inventory. But instead of explaining how different series works, take a look at the different materials of tapes below:
PET: These are reflective tapes that won't tear up no matter what type of harsh weather conditions it faces. You can cut polyethylene terephthalate tapes using a plotter easily.
PVC: Polyvinyl chloride reflective tape is also an untearable variety of reflective tape that's ideal for digital printing as well as ink-jet printing.
PC: The polycarbonate variety of reflective tapes aren't tearable but they can be used for screen printing and promises high reflectivity.
Acrylic: Unlike all the above tapes, acrylic is a tearable type of reflective tape that's ideal for screen printing.
How to apply reflective tape?
Applying the reflective tape is an easy process. Here's a stepwise guide to help you out:
First off take the preferred tape.
Next, tear off the backing paper of your tape.
You must now apply pressure on the tape softly using your fingers.
Owing to the gentle pressure, the tape will affix onto the surface of your choice on its own.
What is the adhesive type of reflective tape?
When it comes to the glue layer used for reflective tapes, it's called the Pressure Sensitive Adhesive or PSA. It's a self-stick adhesive that creates a bond with its non-glue surface upon application of pressure. In such a process, there isn't any solvent like water or heat required for the adhesion to work.
As per the name of the glue, all it matters is the amount of pressure applied onto the surface. Other factors that come into play are smoothness, contaminants, surface energy, etcetera as they're inevitable for the bond created. Such a bond is typically constructed to fare well at room temperatures.
If your reflective tape isn't fitted with special features, its adhesive nature will degrade under low temperatures. At YGM, we have reflective tapes with special adhesives that can perform well under high and low temperatures.
What is the best way to store the reflective tape?
Storage is one of the important ways to increase the durability and stability of reflective tapes in the long run. To ensure the integrity of the reflective tapes you ordered stays the same, you have to keep them under 18℃ to 28℃. But that's not all!
You must also maintain the comparative humidity at 50% (±10%). If you've residual tape, it should be tightly rolled and fasted along the primary direction.