China Reflective Fabric
Manufacturer
Your Trustworthy Reflective Fabric Supplier
Your Reliable to Reflective Fabric Supplier
Multiple Types | Customized Stripes & Logos
The best fabric that's soft, durable, and effective for protecting you from accidents in low-visibility conditions is commonly referred to as the retroreflective fabric. Great choice if you're going for this fabric, but that doesn't mean challenges are done just yet. 
That's because finding premium quality reflective fabric isn't easy, especially if you're trying to find a trustworthy source that doesn't take you for a ride. Whether you're looking for protective workwear for employees that work at night or daylight, YGM is a one-stop shop for all your needs. We aren't just a wholesaler but a manufacturer with several factories and high-end facilities to meet your needs and over 16 years of robust experience in this industry. 
You'll find reflective fabric at YGM in colors ranging from silver to black, red, blue, white, and many other colors. When light falls on it, our retroreflective fabric shows either silver or rainbow colors. 
Our fabric is soft and feather light besides complying with the standards of water and sunlight resistance. It offers multifaceted uses from making apparel to shoes, backpacks, sportswear, hats, and much more. The best thing is users can even sew it onto normal clothes to create a safe and protective fashion in a jiffy. 
Start ordering from YGM today!
Reflective Fabric Features
Why choose YGM Reflective Fabric?
1. Silver reflective fabric
Fabric color: Solid Silver
Reflectivity: At 400cd/lx/m²
Backing fabric: A combination of 96% polyester and 4% spandex
Choose your hi vis reflective fabric in a soft and durable option that's incredibly lightweight to offer maximum comfort to the wearer. It's the best way to enhance the safety and cool factor of clothes like tees, jackets, or even bags, hats, and other accessories. We're welcome to your customization demands, so ping us right away.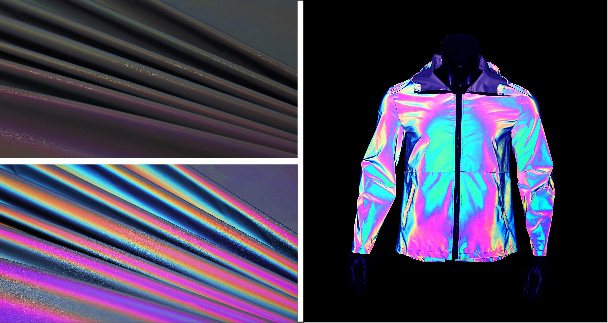 2. Rainbow reflective fabric

Fabric color: You can choose from colors such as black, white, red, grey, blue, and other colors.
Reflectivity: When this fabric reflects light, it shows up in the aurora rainbow shade.
Backing fabric: Here, the fundamental fabric is 100% polyester, T/C, or spandex fabric.
A special type of reflective fabric in the iridescent shade, this type of rainbow reflective fabric is all the fad for its uniqueness today. You can use it for designing jackets, overalls, sweatshirts, bags, backpacks, and much more.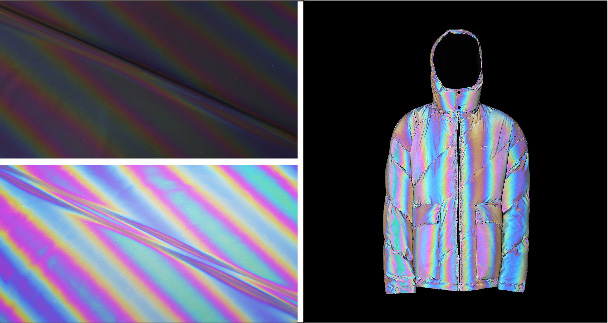 3. Holographic reflective fabric

Fabric color: Ranging from white to red, black, grey, and blue, there are many colors to choose from.
Reflective color: You'll notice a segmented rainbow with colors that arrange itself in straight lines.
Backing fabric: Prepare for a soft outcome because the fabric underneath the reflective material is 100% polyester, T/C, or spandex fabric.
One of the booming trends in the fashion industry is the magic of holographic reflective fabric. Many famous brands are already incorporating this fabric for bringing intelligence and fashion to the foray. It's a soft and lightweight reflective fabric with much creative quotient that's excellent for tees, jackets, backpacks, hats, and many other products.
4. Iridescent reflective fabric
Fabric color: Choose from a wide array of colors like black, red, white, grey, blue, and several more when you send an inquiry to customize the reflective fabric of your choice.
Reflective color: Based on your choice of fabric, it can differ from blue to purple or light-rainbow. Hit us up via the contact us page to know all the details.
Backing fabric: This fabric is made of 100% polyester, T/C, or spandex fabric.
Excellent for creating the hippest jackets, fashion apparel like vests, overalls, tees, and even hats, this is a one-of-a-kind design that looks mind-blowing from all sides. It's customizable to the dot as per your requirements too. Get ordering right away.
5. Silver reflective print fabric
Fabric color: Black, silver, white, blue, neon green, or any print using multiple colors.
Reflective color: Guaranteeing a highly reflective performance with a reflective color of silver.
Backing fabric: Based on your requirements, it's easy to manufacture this using underlying fabrics like 100% polyester, 100% nylon, spandex fabric, etcetera.
Regardless of your demands, YGM is a well-seasoned manufacturer capable of creating a wide range of reflective material fabric in scores of printing patterns. Keep in mind that the washing stipulations recommend 20 cycles but require you to keep to home washing under 40℃. You can use it for athletics, sports, and other similar requirements.
6. Rainbow reflective print fabric

Fabric color: Multiple colors or the rainbow shade.
Reflective color: Iridescent shade often referred to as the rainbow tone.
Backing fabric: Pick from your favorites such as 100% polyester, 100% nylon, to spandex fabric.
Ideal for creating unique designs when it comes to sportswear, athletic wear, jackets, bags, hats, and other accessories. YGM can create endless unique prints as per your custom requirements. You need to home wash this under 40℃.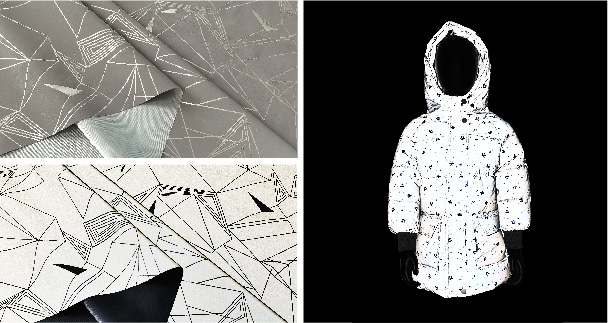 7. Bronzed reflective fabric

Fabric Color: Pick from different color options and varied patterns based on what fits your preference the most.
Reflective color: Silver is the color you'll observe when light falls on this fabric.
Backing fabric: You will find fundamental fabrics like 100% polyester, Tetoron Cotton (65% polyester + 35% cotton), and spandex.
Ideal reflective fabric for unique fashion apparel, Bronzed reflective fabric is ideal for sweatshirts, jackets, pants, clothing for pets, bags, caps, and other accessories. At YGM, we're also masters of customization and that's why you can get in touch with your demands and we'll take good care of it right away.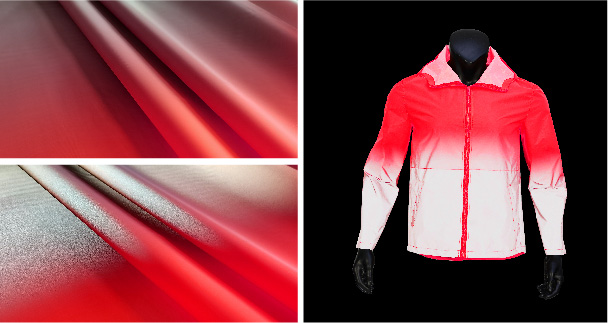 8.Gradient reflective fabric

Fabric color: Combination of dual colors such as silver and black, yellow, red, pink, green, or other specific colors.
Reflective color: Silver sheen is observed when the fabric is illuminated with a light source.
Backing fabric: Made from 100% polyester or spandex.
A unique reflective fabric that's soft and lightweight, this is a material that's trendy, stylish, and uber-cool too. It's ideal for outerwear, especially if your target audience has a refined sense of fashion. You'll notice the changing colors on the fabric are seamless, making it super unique.
A type of reflective fabric that's made into a tape, this is a tape that offers the same high-reflectivity in various color tones like white, grey, red, yellow, and so on. The reflectivity tone on the tape is silver here.
Know more about Reflective Tape for Clothing from YGM today.
Reflective Fabric:
The Complete Buying Guide
Find out the complete meanings of reflective fabrics in detail with information on how it works, how to use, and how to order from manufacturers below.
What is the reflective fabric and how does it work?
In total, YGM features nine varieties of reflective fabric that are excellent for everything from the athletic field to sports, fashion apparel, and accessories. It works based on the principle of retroreflection. Here, the incident light from the source falls on the reflective surface and the reflected light emits back without any scattering. 
To understand retroreflection in a clear way, you need to understand the parts of reflective fabric. It's basically backing fabric that's coated with glass beads that promote reflection of light. Take a look at the picture below to get a clearer idea. 
What types of reflective fabric does YGM offer?
At YGM, you'll find several types of retro reflective fabric to choose from. If you're thinking of exclusive workwear, use silver reflective fabric, rainbow reflective fabric, holographic reflective fabric, or iridescent reflective fabric.
For a more fashionable option, go for printed silver reflective fabric, rainbow reflective fabric, bronzed reflective fabric, or gradient reflective fabric. If you want an easy-to-apply option to upgrade apparel or accessories, use reflective tape.
What is the distance you can be seen with and without reflective fabrics?
When it comes to reflective surfaces, different shades and materials account for different visibility. But when it comes to reflective fabric manufactured by YGM, we have specific values to help you understand how you will benefit from it. 
In fact, if you're wearing blue clothing, you are visible up to 2 meters while white clothing is vivid for up to 24 meters per. For the color red, this extends to 36 meters and yellow takes it up to 50 m. But if you're wearing reflective clothing, you're visible for up to 250 meters.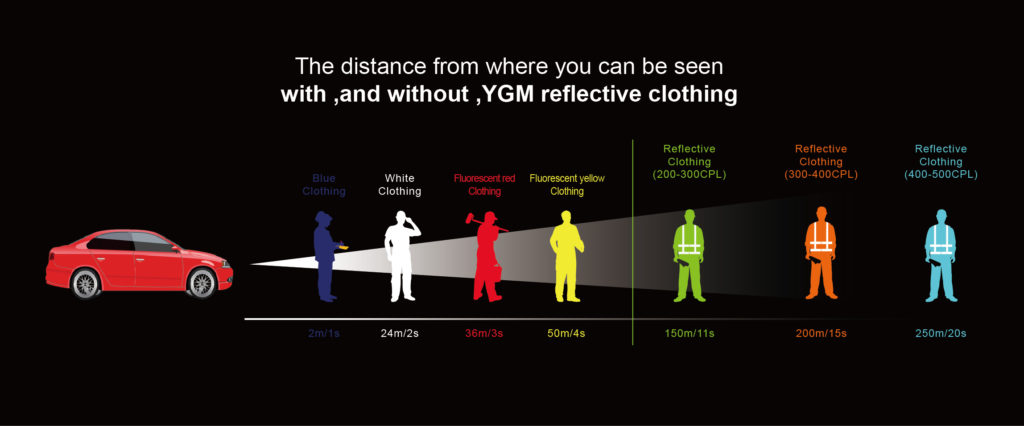 Hence, you'll be visible for up to 50 meters without any reflective clothing, but reflective fabric gives you visibility of up to 250 meters and above.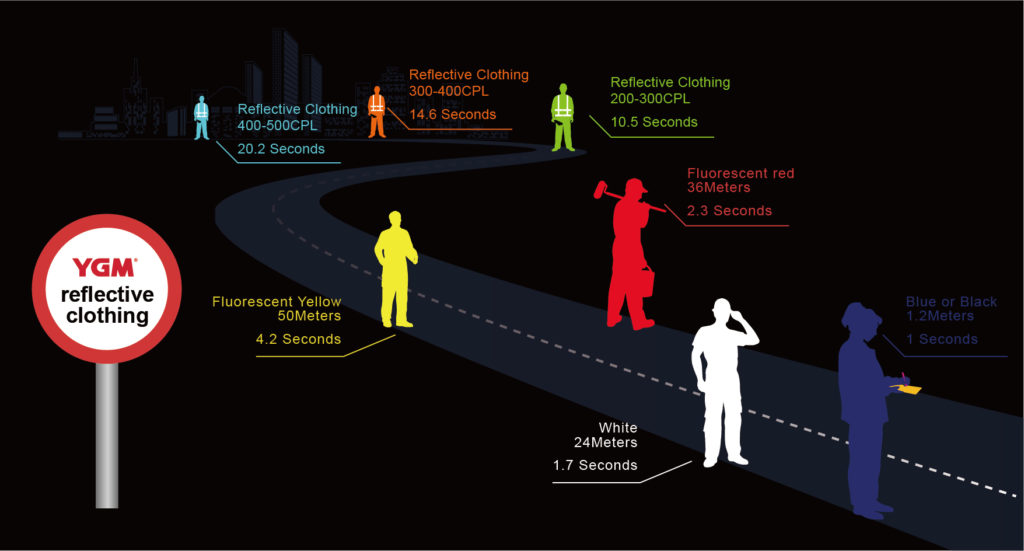 What are the main materials used by YGM to create reflective fabric?
Unlike regular fabric, the reflective textile is made with specialized technology. The first coating is made of backing fabric such as polyester or spandex, which forms the basis for the reflective surface. It's followed by an adhesive agent that helps to keep the reflective material stern on the fabric. 
The adhesive agent is succeeded by an aluminum reflector that contains glass beads with specific yet high refractive indices. When the incident light beam falls on the glass bead, this is how it reflects back to the source of light to illuminate the one wearing the reflective textile.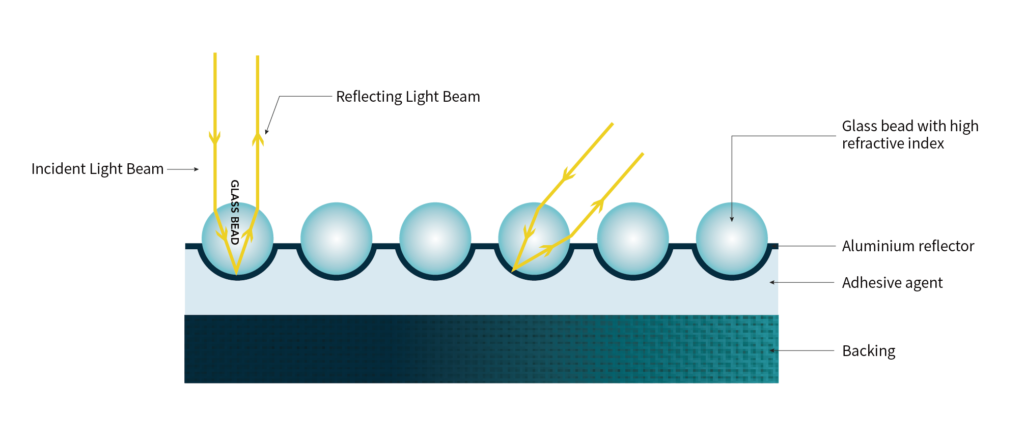 What are the key features of reflective fabric?
Reflective fabric is a unique type of material that's made for the purpose of providing visibility to the wearer in low-visibility conditions. But it's no longer restricted to safety or workwear. You can add reflective textile to fashion, athletic, sports, and other attires to upgrade its uniqueness and functionality. 
Take a look at its main features: 
Lightweight

: Reflective fabric made by YGM isn't clunky or heavyweight that it interferes with your ease of working or wearing. Your employees can wear it all day, every day, and not feel a thing; it's that feather-light. Moreover, being breathable too, the fabric reflective keeps the wearer cool.

Water resistance

: When you're investing in an illuminating fabric, it needs to protect you from darkness and other natural forms of wear and tear. This includes water repellency so that it can withstand damages of tarnish and guarantee long durability. 

Protection from wind

: Just like water, your fabric reflective needs resistance against the wind to protect you in extreme weather conditions. It needs to seal the warmth and provide protection from the cold temperature if your employees work in cold weather. These windproof fabrics are excellent for protecting your employees from harsh winds or storms. 

Shield against heat

: Protecting the wearer from sunlight is a standard for most reflective fabrics. It can block UV rays from seeping through the fabric and affecting your sensitive skin or other areas of the body. Our fabrics come with heat reflectors to prevent absorption of heat by the fabric due to the aluminum coating upon the backing fabric. 

Dynamic

: Reflective fabric is so versatile that it's easy to combine with other materials to create a unique product that serves safety and style at the same time. 
For reflective fabric, can you choose other colors besides dark gray?
When it comes to reflective fabric colors, there is a long list of options that you can pick from. If you like subtle colors, go for black, grey, or white. On the other hand, if you're looking for something eye-catching, then YGM's other color options such as red, blue, green, red, etcetera for reflective textile will work excellently.
In case you have any special requests, you can even get fashionable prints with reflective designs in a click. So don't hesitate to get in touch with our representatives and share your preferences right away.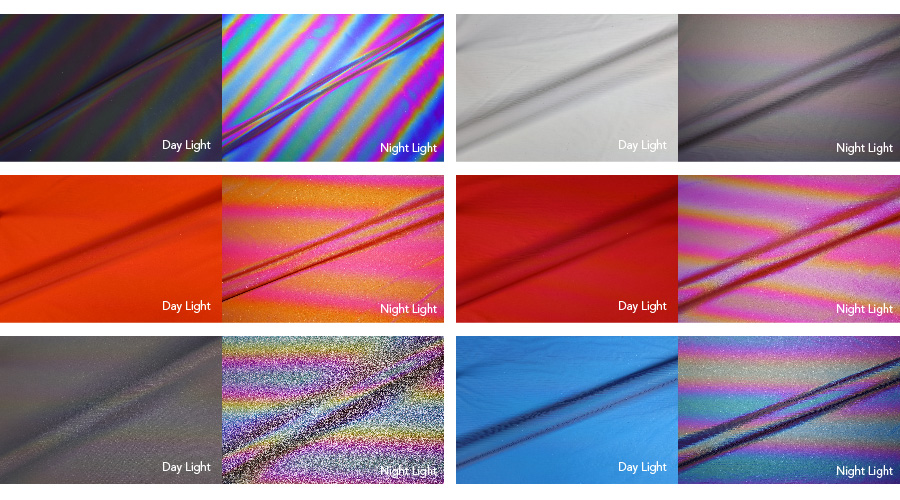 For reflective print fabric, can we customize our own patterns?
If you're interested in a unique type of reflective iridescent fabric, then the best option is to go for the printed reflective fabric. It comes in a variety of colors and at YGM, we have a good selection to choose from whether you're modish or subtle in your style.
However, if you've a unique idea on your mind, just send your designs our way and our technical team will incorporate it to create a sample that works for you.
How is the elasticity of the reflective fabric?
When it comes to reflectivity, elasticity isn't a given. Most reflective fabrics aren't elastic but that doesn't mean that there aren't any elastic fabrics. If you want a stretchable option, look up the backing fabric first. Pick spandex as the backing fabric because that's capable of making the reflective material elastic.
What is the difference between Rainbow reflective print fabric and Bronzed reflective fabric?
Each type of reflective fabric comes with different features and applications. Let's look at the two in question in close. 
Rainbow reflective textile can be iridescent apart from black, red, grey, white, blue, red, and other fabric colors. It has the reflectivity tone of the aurora rainbow. While the bronzed reflective fabric is akin to the rainbow type when it comes to options for the backing fabric such as Tetron Cotton, Polyester, or Spandex, that's where the similarities end. 
Bronzed reflective textile is unique owing to patterns and prints that can be customized according to your demands. Moreover, it's perfect for fashion apparel that looks less workwear and more fashionable. Both are excellent for jackets, overalls, backpacks, pants, accessories, and even clothing for pets. 
Is the reflective fabric soft enough? Can I make all kinds of clothes? Jacket? T-shirt?
Depending on the type of reflective fabric you want, the softness factor of the fabric will also differ. In fact, the softness is mainly dependent on the backing fabric. 
For instance, if you choose 100% polyester, you'll get the best softness. When in comparison, the softness of reflective fabric with other backing fabrics isn't that high. That's why a backing fabric mixed with cotton such as TC may not be as soft as that with completely polyester. On the other hand, spandex is excellent if you need stretchable reflective fabric. 
So, research and find out the kind of reflective fabric you want before finalizing the backing fabric. 
Will this kind of reflective fabric be heavy?
Reflective fabric can protect against dust, wind, heat, water, and sun, but that doesn't mean it's coated with umpteen layers of protection. Today, technology has advanced so much that you can make reflective fabric that offers all-round-protection without being hefty. Reflective fabric made using the backing fabric like lightweight polyester is easy to wear, breathable, and soft.
What should I know before ordering reflective fabric?
Placing an order for reflective fabric isn't the same as buying ordinary fabric. You have to follow a checklist of multiple things to ensure you're getting the right product. 
Here's what you need to bear in mind: 
Type of reflective fabric

: The first question to find the answer is about the nature of the reflective fabric you're looking for. Do you want one that's iridescent, bronzed, in tape form, or something else? To find the right answer, go through the different types of reflective fabrics available such as the nine options provided aforementioned here. 

Basic features

: Next comes the standard features such as the reflectivity rate of the fabric. How strong or mild should the fabric reflect light? Can it be washed commercially? Do you need to stick to a temperature when washing the reflective fabric? What's the size you have in mind? Do you want polyester, spandex, or tetron cotton for the backing fabric? Are you looking for an elastic, lightweight, or heavy fabric? 

Special needs

: Where are your employees going to use the reflective fabric? For instance, if it's extremely windy weather, you need fabric that protects against wind, if it's rain, you need one that resists water damage, and so on. Today you can select from fabric that proofs against, water, sun, and even fire or heat. So make sure to check with your manufacturer before placing the order to get the right fabric for your needs. 
Can you wash the clothing made of reflective fabric?
Safety wear or not, all clothes need washing to ensure optimum cleanliness. That's why when it comes to the reflective fabric too, washing is an important factor. But that doesn't mean you can wash it any which way.
For most industrial fabrics, washing requirements aren't the same. Keep in mind that reflective fabric requires special requirements for washing. Make sure to avoid bleaching or presoaking when you're washing reflective fabric. It's always ideal to tumble-dry it on a low height for maximum performance.
Can these reflective fabrics be made into reflective mesh fabrics?
Yes, reflective fabrics are capable of being made into mesh fabrics. It's available in the netted fabric if that's what your requirements are. It's a cost-effective fabric that's typically used in many types of apparel for creating workwear and athletic wear. In fact, you can also use it for upgrading accessories without hiding the fabric underneath.

Why reflective fabric is called a fashion trend?
While the reflective fabric wasn't used for anything but workwear until a few decades ago, fashion is changing day by day. Today it's popular in athletic, sports, and fashion wear and even used for upgrading accessories like hats, backpacks, shoes, and more. 
The first-ever fashion statement using reflective fabric was created by Alexander McQueen in 2004 for his Fall Collection that was launched in the Paris Fashion Show. He used patterns and prints made of reflective fabric for men's and women's clot  hes from tees to dresses and even shoes. Since then, it's been a boom. 
The reflective fabric boom was adopted by big brands like Nike where they added reflective fabric to the logo. Another brand named LFLECT also brings the reflective fabric to all their apparel from tops, blouses, sweatshirts, head bands, and even yarns. 
Today, it's easy to create even custom-reflective apparel from your home with high-end reflective tapes or sew-on fabrics too. 
Can I make the reflective fabric waterproof?
Yes, you have many types of reflective fabrics that protect against the sun, water, wind, and so on. Typically, at the manufacturer's end, we add a coating that's specifically water-repellant in nature to transform the fabric into waterproof material. This is typically a PU coating that can be coated one or more times for best performance. 
Just let us know your concerns about the reflective performance and other features you're looking for and we'll customize the reflective fabric with the right materials and features fit for your needs.
Can this reflective fabric be fused with other fabrics?
Yes, the reflective fabric is easy to fuse with other fabrics. Such a process is done using the 'thorny velvet technology'. In such a case, different reflective fabrics are blended together to form a fashionable fabric that glows when light falls on it from an illumination source. 
Note that this is different from glow-in-the-dark technology. You can use it for any kind of fabric from denim to wool, polyester, spandex, cotton, etcetera. By doing so, your fabric will look like any other normal fabric under daylight, but start reflecting the incident beam of light at night in silver, white, or iridescent colors. 
Can this reflective fabric be used as a hat?
Yes, the reflective fabric is an excellent way to completely transform your accessories. This is especially useful for folks who don't want to change their clothes but still want the reflectivity factor. You can choose from solid colors such as black, white, or grey for the type of hat or even prints like polka dots, abstract, and surreal patterns. 
The good news is, YGM has a large inventory of hats and cap types you can choose from such as baseball hat, fedora, beanie, beret, fez, cloche, bucket, boater, floppy, bowler, panama, visor, and many other options.

Why do you need reflective fabric for clothing?
When you're focused on apparel infused with reflective fabric, there are many benefits that come along with it. Take a look at some of the perks of reflective material below. 
Durability

: An ordinary fabric doesn't provide resistance from wind, water, and heat. But a reflective fabric does. It can bear the harmful effects of natural wear and tear for a long time without getting tarnished. 

Easy to apply

: Unlike getting artists to work on your apparel, the reflective fabric is easy to apply. You can get it done from the manufacturer's end in most cases and don't have to worry about a thing afterward. 

Dynamic

: Reflective fabric is so versatile it can go with all types of fabric easily that it doesn't even look like a traffic cop's clothes or out-of-the-ordinary. 

Trendy

: Reflective fabric is a trend that's booming because it's almost the same as reinventing the wheel. You can create new designs, patterns, and much more with this novel idea.

Easy maintenance

: Unlike ordinary fabric, the reflective fabric is easy to maintain. You don't have to bear any special instructions about it except for washing. That's it!
Is this reflective fabric suitable for backpacks?
Definitely, the reflective fabric is an excellent option for enhancing the features of your backpack. You can get it in solid colors, rainbow tones to upgrade the look of your bags and similar accessories. Available colors include silver and rainbow colors for the fabric color. 
Feel free to pick customization options for the backpacks based on your requirements and style guide.
Why reflective fabric is very suitable for making Reflective Cycling Jackets?
Do you know accidents related to bikes make up 2% of all types of traffic accidents? One of the commonest causes of bike accidents is poor visibility. That's why high visibility gear like reflective fabric can help to make cyclists more visible to oncoming traffic or vehicles for their safety. 
Reflective fabric is made with gazillion glass beads on the outer surface that reflect the incident light back to the source of light to make them visible in extreme conditions. This way, the cyclists will remain lighted on the road. 
Reflective fabric is available in all sorts of colors for cyclists today because you don't have to compromise on your style on account of safety. It'll keep you bright without having to invest in any other reflective clothing during any season, weather, or temperature. 
What are the uses of reflective fabric?
When it comes to reflective fabric, there is a wide range of ways it's used today. It'll ensure high visibility of the wearer in poor visibility conditions. 
Here's a list of ways you can use it: 
Workwear

: You can add reflective fabric to your employees' workwear attire such as shirts, vests, overalls, jackets, etcetera. 

Fashion

: For upgrading the uniqueness and special features of ordinary apparel like tops, skirts, pants, shirts, shorts, or even beachwear (think bikini or swimsuits), the reflective material fabric is an excellent option. It's great for extreme winter conditions too. 

Atheltic

: For sports persons engaged in training on the public road or extreme weather conditions, the best way to remain safe is by adding reflective fabric to their regular apparel. It comes with resistance to wind and heat to keep the fabric breathable and the wearer comfortable. 

Accessories

: Apart from apparel, you can also use reflective fabric on accessories like hats, caps, headbands, backpacks, purses, wallets, and even jewelry if you're creative enough. This can create new trends and styles with a few strokes. 

Pet Clothing

: When you're taking your pets out for a walk at night or in extreme weather conditions, a reflective fabric is the best option. You can get a reflective jacket that illuminates the pet and keeps them safe. 

Gloves

: Another option for reflective accessory include gloves that are specially made for bikers, cyclists, and travelers for their safety. It typically comes with the reflectivity color of silver or iridescent sheen. 

Scarves

: A trending new solution of reflective wear includes scarves that come with reflectivity print that keeps you visible in poor visibility conditions. You can ditch the reflective jacket, tees, vests, hats, or backpacks to choose scarves. 
Does YGM Manufacture reflective fabric?
Yes, YGM is a popular and experienced manufacturer known for producing reflective fabric for 16 years. Throughout our history, we have mastered several types of reflective fabrics including the reflective apparel and accessories like hats, shoes, backpacks, gloves, pet clothing, and much more. 
You can order any type of reflective fabric for clothing from us no matter what your demands are. Feel free to let us know the type of customization you need and we'll take care of the rest for you.
What is the size of YGM reflective fabric?
While ordering reflective fabric for your business, there are standard sizes you can choose from. In such a case, the width of the fabric is typically around 140 cm. 
If your requirements are something else, feel free to customize the size of the fabric based on your needs and we'll get back to you on what's possible. For now, get in touch with our customer representatives for a detailed response on custom sizes.
Can I order a custom-style of reflective fabric?
Yes, you can place orders for reflective fabrics in custom sizes with YGM. Because we're a manufacturer and not just a wholesaler in China, we can produce reflective fabric in any size of your choice. Our factory is equipped to take custom orders without jeopardizing the quality of the fabric.
From size to fabric color, reflectivity tone, and even the backing fabric, there are many options to choose from. When it comes to specific reflective fabric types such as the printed one or the bronzed one, you can even go ahead and customize the patterns according to your needs.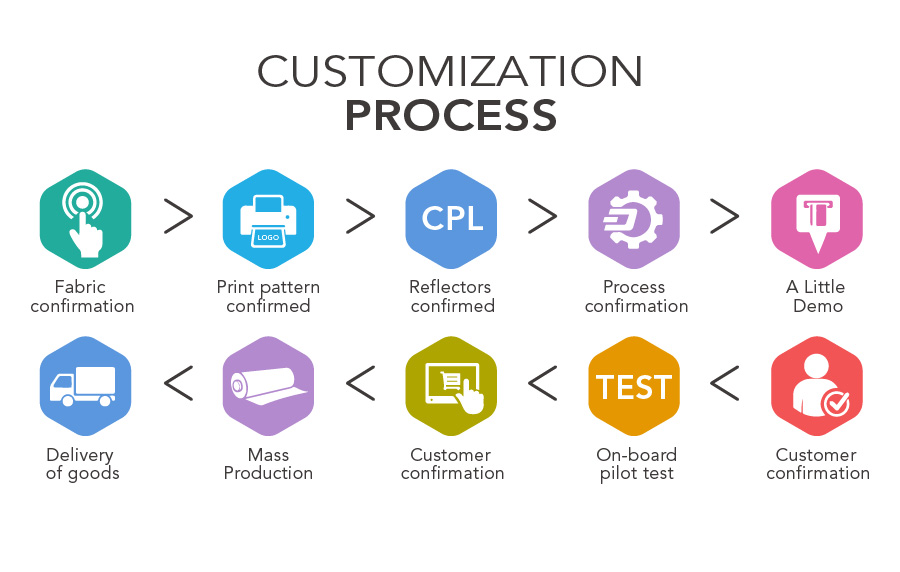 How long does it take for YGM to produce and deliver my order of reflective fabric?
With a quick lead time, YGM is capable of completing hundreds and thousands of deliveries no matter what your demands are. Typically, for a generic order, our total delivery window ranges from 25 to 35 days. 
But if you have a customized item, there would be an additional lead time required to manufacture the product. In any case, you will receive an accurate quote about the delivery estimates directly from our sales representatives right when you place the order. If there are any changes regarding the order, we'll let you know ASAP so that you can make the necessary arrangements. 
Does YGM offer free samples for reflective fabric?
Because YGM is a well-experienced manufacturer with a long list of experience in the reflective industry, we offer all the standard perks to our customers amongst other things. One such benefit is the option of receiving free samples. We understand you can't place a large order unless you're sure of what you're getting. That's why a free sample will help you confirm the performance of the product properly. 
At YGM, you don't have to pay for the cost of manufacturing a sample item because we'll cover it for you. All you need to do is cover the freight charges. The good news is, we'll even deduct the freight charges once you place the final order. 
Once you get the item finalized, we'll send you free samples based on your requirements or customization preferences. You don't need to place a bulk order until you've confirmed the quality and performance of the reflective fabric sample you received. 
Are YGM products always available and in stock?
We completely understand the trouble of awaiting an order without tentative dates or empty promises from the manufacturer. As a manufacturer cum wholesaler or reflective fabrics, we have record-breaking delivery times and lead times because we communicate the manufacturing TAT to our customers with accuracy. 
The products that you see on our websites at present are all regular items without any customization. These are always available in stock and you can place the order at any given time for immediate dispatch of the same. However, we suggest you send us an inquiry or check with our customer service team about the availability of the order before finalizing your order to be on the safe side. 
But when you need customized products, the waiting time is different. It will include an additional lead time required to create the products at first. This is typically around 25 to 35 days. 
But the same can fluctuate based on many factors, within or out of our control. We'll always inform you about the turnaround times and estimates without fail. So, keep a track of our responses from your mailbox or get in touch with us in case of any concerns. 
What are the chief quality control measures and standards used by YGM when it comes to reflective fabric?
When it comes to quality, YGM is at the forefront of the best quality reflective fabric manufacturers in China. We take extra efforts to make sure the final products you receive are exactly as you ordered. Our quality control experts pick random items from the production line to assess their performance and quality thoroughly. 
Here's our quality control process in detail so that you're prepared for the same: 
Reflectivity

: Based on the type of reflective fabric that you've chosen, the reflectivity of the item also differs. To ensure you get the reflectivity quotient exactly as you ordered, we conduct tests using props like inverse reflection coefficient measuring instruments. 

Washing

: The mode of washing is dependent on the reflectivity performance of the washing that's tested via the washing machine. Note that the washing standard of the reflective fabric is ISO 6330, which recommends washing at temperatures such as 40℃ to 60℃ or 90℃. Keep note that home washing is best at 40℃. If you've any doubts, crosscheck with our sales experts to confirm the washing cycles beforehand. 

Glass beads

: We assess the quality of the glass beads on the surface of the reflective apparel. But you can also do the same by rubbing the surface of the fabric with your hand to find if there are any poking or misaligned beads. 

Surface excellence

: The best thing for ensuring high quality of products, it's best if you check the product for blemishes, flaws, scratches, black spots, or other imperfections or defects right when you receive the order. 

Feature-testing

: If the reflective fabric you've ordered comes with special perks such as resistance from sun, heat, wind, or water, we'll assess the performance of the same before dispatching each product to you. 
How to ensure optimum quality of reflective fabric with certainty?
While it's the responsibility of the manufacturer to control the quality of reflective fabric, we can't control any damage to the item once customers start using it. You have to ensure that the fabric remains at its ideal quality and performance by appropriate usage. To do so, the first thing to do is follow the washing requirements to the dot. 
Start by tumble-drying the reflective fabric on low after washing. Next, avoid pre-soaking or bleaching the reflective fabric as this would lead to disintegration of the glass beads. Finally, stick to the washing temperature of 40-degree-Celsius. 
What are the most important things to bear in mind when ordering reflective fabric?
Before you finalize the order, it's important to cover all the important points so that the manufacturer can create the best fabric according to your requirements. Unless you communicate the requirements, the manufacturer cannot create an excellent product. 
Here are some tips to keep in mind so that you get the best product:
Size

: First thing to ensure is the dimensions of the reflective fabric. Based on this, your cost estimate will be prepared by the manufacturer. In case it's a generic size, the quote will be quickly provided. For custom dimensions, it takes experts time to do the math and get back to you. 

Color

: Make sure you specific the fabric color and the reflectivity color that you're looking for, lest they add a generic color that you aren't good with. 

Reflectivity

: Find out the reflectivity of the fabric or specify your needs so that you can assess the visibility of the fabric under different conditions before you get it in hand. 

Branding

: What are the personalization requests you have for the reflective fabric? If you want branding elements, make sure to clarify it well before finalizing on the order so that you're certain the manufacturer can meet your requirements. 

Backing fabric

: Depending on how you want the fabric to behave such as stretchable, lightweight, or hefty, the backing fabric will differ. For example, you can get polyester for softness and spandex for elasticity. 

Washing requirements

: Make sure you're aware of the washing standards and requirements or communicate any demands about the fabric before production begins to get the right product. 
What are the main differences between reflective sheeting and reflective fabric?
When it comes to reflectivity in fabrics, there are many options to choose from. Let's find out the basic differences between sheet and fabric with reflectivity. 
Reflective sheeting is a film that's completely composed of retroreflective elements and used in traffic signals and on objects. On the other hand, reflective fabric is a type of material that's added to clothes, shoes, bags, hats, and so on for in-person-use. 
There are many other differences between the two. 
You can pick from two types of reflective sheeting such as the Acrylic or PET type. But reflective fabric is typically made from backing fabric such as 100% polyester, 100% nylon, Tetron Cotton, spandex, or other viable options. Depending on the backing fabric, the softness and weight of the material will change and hence, sheeting is tougher and heavier than the fabric variety. 
Finally, the application of both reflective sheeting and fabric differs too. You can use the former for advertising, branding, traffic signs, zone signs, and so on as it comes with self-adhesion capability. However, reflective fabric needs to be adhered using external elements and features on jackets, vests, overalls, tees, sweatshirts, dresses, pants, pet clothing, shoes, backpacks, hats, etcetera.
How do you differentiate reflective HTV from reflective fabric?
Another variety of reflective material that may be often confused with reflective fabric is one made of reflective heat transfer vinyl. Both reflective fabric and HTV also come with many different features. 
First off, the backing fabric of both types of reflective material is different. Reflective heat transfer vinyl fabric is typically made with TPU (thermoplastic polyurethane) or PES (polyester fibers). On the other hand, reflective textile can be constructed using 100% polyester, Tetron Cotton, spandex, or even 100% nylon. 
That's not all about the differences between the two. Reflective HTV is easy to cut into logos and other branding elements, but it typically requires a laser plotter, Cricut, or a knife to do the job. Once it's cut, the same has to be hot pressed onto fabrics for apparel or accessories based on the specific temperature specifications.
But when it comes to reflective fabric, you don't have to handle the hassle of hot pressing. It can be easily added to fashionable clothes or accessories like bags, shoes, and hats easily. 
What type of packaging options do you offer at YGM for reflective fabric?
When it comes to packing the reflective textile, YGM offers state-of-the-art quality so that you can rest assured that your package is safe in transit and until delivery. We typically use packaging dimensions of 1.4mx100m per roll of reflective fabric. It's packaged in corrugated boxes for smooth transport and conveyance so that dents and shipping problems don't damage the fabric. 
What is the total production capacity of YGM for reflective fabric?
At YGM, we have a huge factory with 30 production lines that includes five high-end facilities employed with hundreds of well-trained staff. Our factory extends over 30,000 to 50,000 sqm in China. That's the reason we're capable of meeting wholesale demands of several businesses at once without compromising on quality. 
Our facility is equipped with scores of workshops that creates room for the production of different reflective garments, tapes, sheets, and much more. At present, YGM is capable of producing 5,000,000 or 5 million square meter of reflective textile.