Your Trustworthy One-Stop Reflective Tape And Safety Clothing Manufacturer Supplier
Yare. Gumptious. Meritable.
"Wondering how we got started? YGM stands for three Chinese Words: 夜光明, which is pronounced as Yè-Guāng-Míng. 

Here, 夜 or yè means night, 光 or Guāng means light, and 明 or Míng means bright. It translates to the bright light in the night. At YGM, our motto is to 'make you bright, no matter where you go'.
"Wondering how we got started? YGM stands for three Chinese Words: 夜光明, which is pronounced as Yè-Guāng-Míng. 
Here, 夜 or yè means night, 光 or Guāng means light, and 明 or Míng means bright. It translates to the bright light in the night. At YGM, our motto is to 'make you bright, no matter where you go'. 
The story goes that one night a worker was crossing the road in pitch dark wearing plainclothes after his workhour, but was killed in a road accident because he wasn't visible to the onlooker driving the vehicle. The incident affected Chen so much that he decided to abandon his current business in the hopes of protecting workers everywhere. 
After researching for days and weeks, Chen realized the best way to protect pedestrians, cyclists and anyone traversing at night as well as in extreme weather is with reflective fabric. He also learned more from university research papers and studies that reflective fabric directly reduced traffic accidents by 70%. The proof enthralled him so much that he got to work on the very day! 
With one goal clocked at securing the lives of manpower across China and the World, Chen stepped into the world of all-things Reflective. His motto was to provide workers who toiled away day-and-night with everything they needed to be safe on and away from the worksite. 
Chen started working closely with designers to establish his own production line right after. With two technicians to help him out initially, YGM got started in a modest setup. 
Today almost after 18 years, YGM proudly boasts over 40 production lines, 500+ staff, eight facilities, and a giant factory that accommodates the faculty and the facility in Taizhou, Zhejiang. The rest is history because to-date we've successfully catered to hundreds and thousands of clients across 50 countries. 

In the due course of time, YGM embraced R&D wholeheartedly. Truth be told, Chen started developing innovative apparel with safety in focus after noticing the widespread demand for reflective fabric in China and all around the world. 
He realized people no longer associate safety and security with boring shades of black, white, or grey. The truth set us free because there was a whole new world of colors to explore from! 
That's when YGM began manufacturing our brand new addition called the Rainbow Reflective fabric. With time, we've added many other creative ways to bring a pop of color in the reflective market with reflective HTV (Heat Transfer Vinyl), Luminescent Fabric, Temperature Variation HTV, Optical Variation HTV, and many more products. 
We at YGM are constantly looking for ways to get better and that's precisely why 15% of our sales revenue goes directly to Research & Development. Are you ready to invest with the big players of the reflective world? 
Thanks for seeking to learn more about YGM. We love having you here and hope you'll become an integral part of our YGM family really soon. 
Until then, Adios and Zàijiàn!
Today almost after 18 years, YGM proudly boasts over 40 production lines, 500+ staff, eight facilities, and a reflective material,reflective fabric,reflective material manufacturers that accommodates the faculty and the facility in Taizhou, Zhejiang.  
With a vast factory boasting 42 production lines and five facilities within, YGM employs hundreds of well-qualified personnel. It stretches over 30,000-50,000 square meters over Binhai Industrial Park in Taizhou Economic Development Zone.
With over three R&D centers, YGM leads the list for being one of the most creative reflective tape, fabric,material manufacturers from China. Our cutting-edge research center in Taizhou is built with innovation in focus. We are proud to have up to 15 engineers closely working on research and development.
Equipped with all the facilities to undertake the manufacturing and storage of millions of reflective material from vests to fabrics, sheetings, tapes, and everything reflective, our warehouse is one of the best in the country. 
When it comes to washing tests, our washing machine is equipped with ISO 6330 standard that's made for 31 different washing procedures and six drying procedures.
The machine is furnished with industrial-grade washing resistance of ISO 15797 that guarantees 75 cycles at 75-degree celsius. From adding the right amount of exclusive-detergent to configuring washing standards, drying samples, observing the same, and measuring retro-reflective coefficient, we follow all the international standards without fail.
Inverse reflection coefficient measuring instrument
For gauging the retro-reflective coefficient of reflective sheetings and fabric from varied angles such as observation angle (α) and incident angle (β), IR Coeffefient measuring machine is used. We diligently calibrate it based on the conventional standards and set the value for incident and observation angles according to requirements.
Once set, the measurement port of the IR machine is calculated using the surface area of the fabric or tape in the unit cd·lX-1·m-2.
Pneumatic ironing machine
A state-of-the-art machine that helps to press the reflective heat transfer vinyl onto different types of fabric using heat. Prior to conducting this process, the pneumatic ironing machine is set with parameters. This includes temperature, time, and pressure based on the fabric and hot transfer vinyl type used.
Once the hot transfer process is complete, it's cooled, and the protective film on the surface is torn off.
One of the chief types of equipment of quality control in YGM establishment, the infrared spectrometer is used for reading the IF absorption spectrum of the molecule is measured by checking a process called energy-level transition. This is the result of molecular vibration once the substance takes into all the energy of radiation.
The range of measurement used is 4000cm to 1 and 400cm to 1. Here, the environmental requirement of the instrument ranges from 18 to 25-degree Celsius and relative humidity of ≤60%.
When it comes to guaranteeing the superlative quality of reflective sheeting and fabric, YGM takes painstaking-care to ensure nothing but the best reaches you. In our 16 years of working in this industry and emerging as a key player, YGM has developed an exclusive set of quality control process that takes every inch of the product we deliver for excellence.
We have a well-seasoned quality control process where every product is tracked with the help of a QR code within the factory. Here, we are able to track down every step of production and the processes it went through.
While the above is for reflective sheetings and fabrics, tapes have a different wash test altogether.
Our test equipment includes but isn't limited to the tensile testing machine, microscope analyzing tester, retroreflective meter, aging test chamber, constant temperature and humidity room, dry cleaning machine, hydraulic tester,fabric air/moisture permeability meter.
YGM is equipped to maintain high-quality owing to the many certifications under our sleeve. We keep upgrading our processes to seek higher certifications every few months.
Abbreviated from Material Safety Data Sheet, this is a document that specifies how to use the product safely during hazardous situations. It's mandated by the Occupational Safety and Health Administration (OSHA) and contains manufacturer's contact details, hazardous ingredients, and information on creativity, health hazard, fire and explosion information on top of control measures and precautions for safely handling the product.
A kind of product certification, UL (Underwriter's Laboratory) certification translates to standards adhering to national safety and free of risks associated with fire and electric shocks in specific environments (Division II). UL is a globally-acclaimed testing, auditing, inspecting, and validation body.
This is a certification often conducted for ensuring high quality of textiles. She standard 100 of Oeko-Tex checks for harmful substances and ensures textiles don't contain any of them. It means that every inch of the reflective fabric sold to you is free of harmful substances. It helps to protect the planet and your workers wearing it.
Referred to a TÜV/GS Rheinland certification, this is a German security and safety standard. It means that the product is safe by electrical safety, undesired noise, and dangerous components. Established to ensure protection in the early 19th century, it conducts audits for providing certifications.
Established by American National Standard Institute exclusively for High-Visibility Safety Apparel, the concerned digital code of this certificate is 107-2020. It concerns three classes of performance for garments and their design features. YGM has different ANSI/ISEA certifications regarding the quality of the equipment. Just get in touch with us directly regarding the standards you're looking for and we'll help you out.
The primary certifications from the International Organization for Standardization with YGM are ISO 20471, ISO 9001, and ISO 14001. Out of this 20471 stipulates the safety standards for workwear concerning high-risk situations. ISO 9001:2015 is the standard for general quality management, management responsibility, resource management, product realization, and more. ISO 14001 consists of performance requirements concerning environmental management systems (EMS) of the factory.
We've hosted kiosks at many popular trade shows such as Canton Fair, Première Vision Paris Fabrics Show, A+A Exhibition Germany, and Intertextile Shanghai Apparel Fabrics.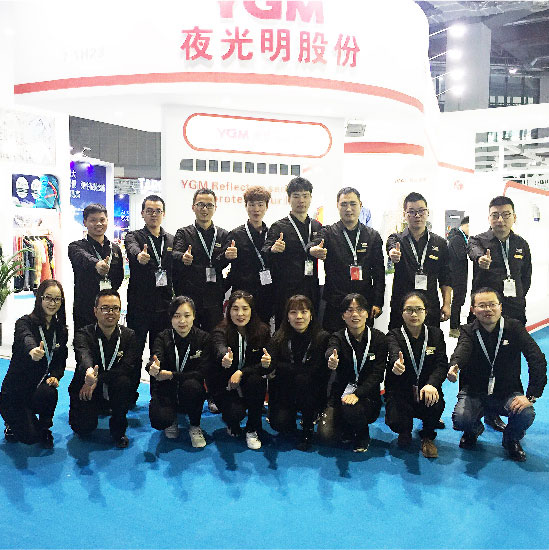 Get reflective clothing in everyone's wardrobe.
YGM is dedicated to become an advanced solution provider of new material in global wide,
Keep surpassing self in protective equipment area.
Make Customer Succeed / Give full scope to the talents / Share for Win-Win
At YGM, we strive to guarantee no less than excellence for every reflective product we manufacture. Our well-trained
staff is familiar with our core values, purpose, and mission as furnished below.
Frequently asked questions from buyers
Reflective to Everyone Needs, From Design To Quality.
Request A Quote
18 years+ Reflective Material Experience.Customization Accept.Innovation Efficient Production.
Submit an Online Message
Reply Within 24 Hours