Your Trustworthy Reflective Straps
Manufacturer Supplier
Your Reliable Reflective Straps Supplier
Multiple Types | Customized Stripes & Logos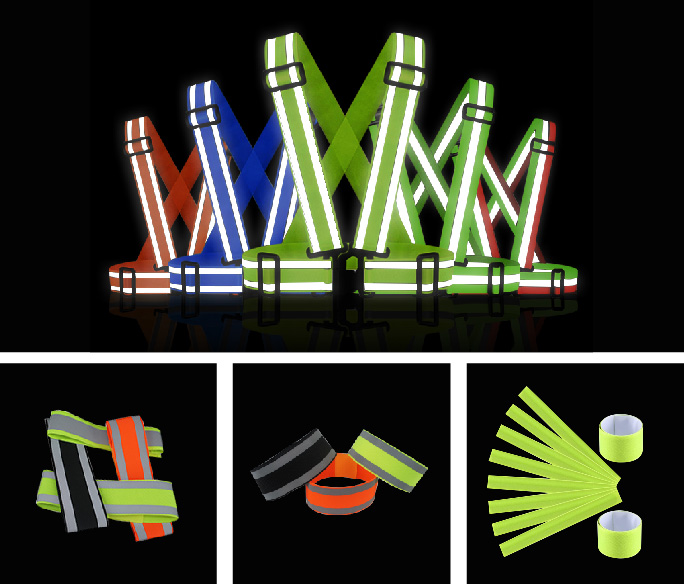 Reflective straps are one of the most important elements of safety essentials. So much so that any safety gear kit is incomplete if safety‌ ‌reflective‌ ‌straps‌ aren't included. These straps have a wide usage, which justifies why their demand is ever-increasing. safety reflective straps also form part of reflective running gear. Apart from safety, these reflective straps can be used for adventure and sports purposes too. They are apt for night running, walking, cycling as well as motorcycling. Reflective straps are super comfortable and flexible – they are adjustable and can fit different body types too.
We, At YGM, manufacture the best reflective straps to cater to your diverse needs. When it comes to safety and adventure, the gear you use cannot be compromised. With our products, you wouldn't have to worry about the quality and cost – we offer high-quality reflective straps at reasonable prices.
You can completely rely on our good-quality reflective straps for all your needs. Further, we have compiled everything you need to know about reflective straps in this post –the different types of products available, how they function, and a whole range of frequently asked questions concerning reflective straps. Read this comprehensive post to know more:
Reflective‌ ‌straps‌ ‌Features
Why choose YGM Reflective‌ ‌straps‌ ‌?
Reflective‌ ‌straps‌ Category
Let's understand the different products we offer:
Reflective Straps Vest
This vest is an essential part of every safety equipment kit. It features both reflective‌ ‌backpack‌ ‌straps‌ ‌ and fluorescent elastic, making these vests perfect for day and night usage.
Reflective Arm Straps

These armbands are suitable for both safety and creative purposes. They offer just as required reflectivity and visibility to keep you safe during your night walks, runs, or jogs. The unique design of these straps makes them well-fit for all types of uses – right from pets to backpacks to your own arms and legs, you can use these straps for it all.
Reflective Strap Bands

Lastly, you have these versatile, durable, and wear-and-tear-resistance bands, which are multifunctional and suitable for various usages. Lightweight and comfortable, you are free to use these strap bands on any part of your body. Like the other products, these bands, too, are well-suited for safety as well as creative products.
Reflective Strap:
The Complete Buying Guide
What are reflective straps, and how do they work?
Reflective straps function on the principle of retro-reflection. These straps are made of three main elements – the first is a backing fabric, the second is the layer of the aluminum reflector, and the third and most important one is the layer of glass beads.
When light falls upon the glass beads, they collect the light, focus it, and bounce it back to the source. This ensures the straps are reflective and offer ample visibility. The image below explains the concept in a much simpler manner:
What type of reflective straps does YGM offer?
We have three different categories of reflective straps from which you can pick what suits your needs best. In a gist, these are the products we offer:

1.Reflective Straps Vest
The key materials used in this product are reflective stripes supported by an elastic belt. The reflective straps come in different colors, such as silver and rainbow shades. The width of these straps spans from 1.5 cm to 3 cm.
The width of the elastic belt is 4-5cm. You also have options in the color of the belt and can pick from colors such as fluorescent yellow, fluorescent orange, or a combination of both colors. The vests are suitable for usage in broad daylight and pitch darkness too. The bright colors make it easy for people to recognize and distinguish workers. This also explains why our vests include both elements –reflective strap vests and fluorescent belts.
These vests are super flexible and come with four adjustable buckles for easy strap adjustment. With these buckles, you can quickly adjust the waistline and the shoulder of the vest to fit your size. It is lightweight and comfortable, making it super portable too. You can wear it easily and take it off without any hassles too. These reflective backpack straps offer 360° high visibility, making them the perfect choice for safety as well as adventure gear.
Usage
These reflective backpack straps are must-haves for construction workers working at night and in low-light environments. They are also an important element of the safety gear of mining workers. These safety reflective straps vests reflect light that is shined on them, giving the workers much-needed, amplified visibility. Along with these, traffic control guards, school crossing guards, waste collectors, emergency service personnel, and even parking lot attendees wear the reflective strap vests to carry out their work well.
 
2.Reflective Armband Straps
The materials used to create these reflective armband straps are elastic and reflective straps. The reflective strips come in silver and rainbow shades. The width of the strips varies – you can opt for any one of the four sizes – 1.5cm, 2cm, 2.5cm, and 3cm. These reflective armbands are smaller in size and, again, are suitable for a range of purposes.
The elastic bands are available in shades of fluorescent yellow, fluorescent orange, black, fluorescent green, and a whole range of different shades for you to pick from. The bandwidth spans from 4 to 5 cm. The presence of both the elastic belt and reflective strap ensures you have visibility through all times – and you don't have to worry whether it's broad daylight or pitch darkness – these bands will do what they are meant to do.
The design of these armband straps is different, with a strong hook and loop closure, and is totally adjustable. This helps secure the band, well, on whatever you choose to use it on. This also ensures that the band doesn't slip off, irrespective of the usage and motion. The flexibility also ensures you can use it for people of all ages. You can also use it for the legs of your pets.
Usage
Reflective armband straps have a whole range of safety as well as creative uses. It has a small size that makes it perfect for wearing around ankles, wrists, and legs. You can also use these bands for the legs of your pets. These bands are also used on bicycle wheels and backpack straps. The whole idea is to increase your visibility to motorists, drivers, cyclists while running, walking, or strolling around at night.
Apart from safety purposes, these reflective armbands are also worn as an accessory by youngsters. They wear it along with their outfits to make a fashion statement or simply wear it to pubs and clubs. These armbands are completely customizable, and you can engrave your own logo or initials onto them. Some gadgets, too, feature these armbands to improve visibility at night. If your gadgets don't have these armbands, you can add them to your gadgets too.

3.Reflective Strap Bands
These reflective strap bands are made of PVC tapes. The best part about these bands is that they can be customized to meet your requirements. All you have to do is let us know the size and color of the reflective strap bands you need, and we will manufacture them for you.
These reflective strap bands are durable, wear-resistant, and scratch-resistant too. Thanks to its vibrant color, it offers high reflectivity. These straps are multifunctional and can be used on different body parts too. Lightweight, versatile, comfortable, and fully adjustable, you can use these reflective strap bands on a range of things too.
Usage
Like the other reflective products, these reflective strap bands also offer visibility, which is critical for safety. So anyone and everyone who is involved in high-risk activities where visibility is important can wear them. Construction workers, ground workers, warehouse and utility workers – anyone can wear these bands to work. You can also wear it when you head out for your evening wars, runs, or jogs. If you take your pets along, you can use these armbands for them, too, to ensure their safety from motorists and passersby.
Likewise, these products are also used for fashion purposes – and are extremely popular amongst teenagers and adolescents. Thanks to the funky fashion ideas of the youngsters, these bands have become a popular accessory. The bands also have creative purposes and can be to create mesmerizing art too. The fun element which these bands bring in often make them part of the costumes of dancers too.
What distance can you be visible from with and without reflective straps?
If you opt for normal clothing in various colors, your visibility will vary according to the shade of your outfit. For example, the visibility offered by a blue outfit is 2m/1s. Likewise, white, red, and yellow clothing offer 24m/2s, 36m/3s, and 50m/4s visibility, respectively.
When you wear a good quality reflective strap vest or clothing, your visibility is instantly amplified to 250m/20s. The following diagrams will help you understand the visibility with and without reflective straps in a better way:
What are the key materials used to manufacture YGM reflective straps?
The three elements remain the same across all types of reflective straps – the first layer is always a backing fabric, which may vary depending upon the type of reflective strap. Over this, you have an adhesive agent, which is applied to secure the next layer – which is the aluminum reflector. Lastly, you have the most important element: the glass beads with a high refractive index. These glass beads play the ultimate role in ensuring your reflective clothing offers high-quality reflectivity and visibility. We have attached a simplified image to help better understanding:
What are the key features of reflective straps?
The best part about reflective straps is that they are flexible and can be customized and molded into any product as required. They are also lightweight and breathable, making them very comfortable to wear and carry. The reflectivity quotient of these reflective straps is very high, which is why they also offer excellent visibility.
The straps are easy to put on and take off. You can also wear them over any type of clothing, and they will function just as well.
What are the uses of reflective straps?
Reflective straps are multifunctional – you can use them for safety, creativity, or fashionable purposes. They are perfect reflectors for cycling, jogging, walking, as well as for other adventure activities. These straps are well suited for pets too. You can also put them on backpacks and other essentials you carry along during hikes and treks.
The reflective straps are well suited for all types of weather. You can wear them for outdoor activities in the dark, early morning, or even in the evening.
Does YGM manufacture reflective straps? Can I order reflective straps from YGM?
Yes, we do. In fact, we are a company dedicated to manufacturing top-quality reflective materials – tapes, fabrics, and straps included. Our diverse range of products leaves our clients spoilt for choice. We comply with all the industrial standards, which make our products the best in the market.
You can order reflective straps from us, and we would love to cater to your requirements. Do get in touch with us and place your order right away!
Can I order customized reflective straps?
Yes, you can. We understand that all clients will not have standard requirements, which is why we are open to catering to customization requests. You can choose the size and color you want to, and we will manufacture them according to your requirements.
How is the elasticity of reflective straps?
Reflective straps are super flexible and have a good elastic performance. This is precisely why they are well-suited for a range of uses too.
Can we add our own logos to the reflective straps?
Yes, as we mentioned earlier, we are completely open to customization and personalization of reflective straps. All you need to do is send your logo design to us once you confirm your order, and we will incorporate it into the reflective straps when we manufacture them.
What should I know before ordering reflective straps?
We have elaborately mentioned the factors you need to look into before buying reflective straps – let's run you through some of these essential factors. The first and foremost factor is reflectivity – high reflectivity results in excellent visibility, so that is not something you should compromise on.
Next, you can look into factors such as size, washability, quality, and flexibility of the product. Each of these aspects is super important, and you need to look into each of them before you buy reflective straps. Above all, you need to be well-versed with your requirement – because it is on this basis that you will be selecting products with features relevant to your needs.
Does YGM offer free samples?
Yes, we do. While our samples are free, you would have to bear the shipping charges. We also have a provision to deduct these shipping charges from your total order amount once you confirm your order with us.
Are YGM products always in stock? Do I need to pre-order and await new stock for a long period of time?
Our lead time spans from 25-30 days. If you order our standard products, we would be able to deliver them to you a lot quicker. However, in the case of customization, we would require additional time. We try our best to conform to our specified lead time so that our clients don't face any hassles. If you wish to inquire about our current inventory levels about items you wish to order from us, do drop in your queries with our customer service team – we'd surely help you out.
What type of packaging options are available at YGM?
We have different packing for different products. For reflective strap vests, we have 100 pieces in every carton, with every piece packed in a polybag. Likewise, for reflective armbands, we pack 12 pieces in a polybag and have 200 such pieces in a single carton. We ensure that every product is packed well individually so that they are not damaged in transit.
What is the total production capacity of YGM for reflective bands?
We have a production capacity of manufacturing around 100 thousand pieces of reflective straps every month. We cater to customization and personalization too, so if you have any unique requirements, do let us know. With our magnanimous production capacity, we will definitely help you out with your order and its delivery.
Now that you know all about YGM, the products we offer, and our production capacity, what are you waiting for? Place your order with us right away!