Reflective fabrics have grown increasingly popular in the fashion and personal protective equipment industries, largely due to their visibility-enhancing properties. YGM is devoted to providing quality products with high reflective standards and reliable sourcing of raw materials. Due to their commitment to quality control and improvement, YGM has close trade relationships with over 50 countries and regions globally. As a testament to their reliability, YGM possesses professional certificates such as ISO9001/ISO14001/ISO45001, IATF16949, GRS, OEKO-TEX100 , Made in Zhejiang, EN17353 , CCS used for environmental protection and safety management. With these certificates combined together, customers can be sure they are receiving the best quality products that meet regulatory standards.
Three Systems Certification (ISO9001/ISO14001/ISO45001)
YGM is now certified to ISO 9001, 14001 and 45001. This achievement reflects our commitment to meeting globally recognised standards for quality management systems, environmental management systems and occupational health and safety management systems. Achieving these professional certifications clearly demonstrates the organisation's high level of dedication in taking the necessary steps to ensure full compliance with the established standards. By achieving this milestone, we continue to demonstrate an ongoing commitment to excellence and the provision of best practice in line with global guidelines.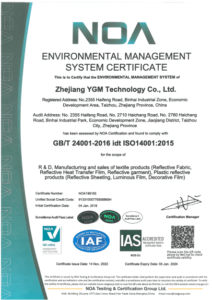 The IATF 16949 certification is reflective of the standards set by the International Organisation for Standardisation (ISO). Specifically designed for the automotive industry, the certification applies to everything from design/new product development to installation and service. Achieving such a certification requires businesses to make sure they are operating at peak performance, since it verifies that quality systems have been implemented and are in place for continuous improvement. Furthermore, it shows that every step of their business processes is executed in a professional manner. To put it simply, these certifications act as proof of YGM (Your Greatest Management) which speaks volumes about our commitment to excellence.
GRS(Global Recycled Standard)
The Global Recycled Standard (GRS) is an important international, voluntary and comprehensive product standard, used to monitor and certify the recycled content and compliance with green environmental protection of products entering the supply chain. At YGM, we understand the importance of being environmentally conscious and this is why we chose GRS certification: to ensure that our products meet globally recognized standards for sustainability. To obtain professional certificates from GRS, all YGM should actively build a Green cycle development production system as part of their production work in order to promote sustainable production and sources. This is how YGM works towards maintaining not only a positive environmental performance but also what will help us meet any future legislation.
Figure 4  Global Recycled Standard
YGM is proud to be able to offer specialist certificates such as the OEKO-TEX 100 certification, which provides proof of the high standard of textile raw materials and other accessories which include fibres, finished garments, home textiles and labels. The certification is fast becoming one of the most well-known worldwide and helps consumers to make informed decisions when making purchases, knowing that these related products do not pose a health risk. The system has achieved great authority and influence, setting high standards for improving the comfort and well-being of users worldwide.
Made in Zhejiang Certification
YGM's active role in staying ahead of industry standards has earned the company the prestigious "Made in Zhejiang" brand certification. This is a regional public brand that reflects the quality and excellence of products produced by Zhejiang companies and is sought after by all participants. YGM, as one of its leading companies, has been awarded the titles of "Provincial High-tech Enterprise Research and Development Centre", "Executive Director of an Industry Association" and "Provincial Research Institute". This demonstrates the dedication and innovation shown by YGM's outstanding staff and our insistence on producing excellent and reliable quality products for our customers. For these reasons, YGM has built up a positive public image both locally and around the world, a symbol of trustworthiness and great standards that reflects the height of all companies in Zhejiang, China, and YGM has become one of the companies of choice for customers when purchasing quality reflective products.
China Classification Society (CCS) has the responsibility to provide technical specifications and standards for marine products, offshore facilities, industrial machinery and equipment. According to different national regulations and international conventions, CCS provides professional certification, approval, verification and authentication services for these marine products. The YGM Reflective tape is one of the most important product that needs CCS approval. This reflective material is specially designed for marine life-saving appliances and must be certified by CCS prior to entering the marine market. With their excellent expertise in providing professional accreditation services, CCS continues to support viable projects related to maritime activities.
At YGM, we are proud to officially have ENISO20471 certification which is an international standard that sets out professional requirements for workwear in high-risk areas. We have successfully obtained this certificate for both our flame retardant and heat transfer vinyl products, so they can be used with the utmost confidence. From protective clothing to safety footwear, ENISO20471 provides customers with a reliable source of expertise and a trust-worthy seal of assurance when it comes to customers' safety. Our commitment to upholding such professional accreditation allows us to ensure that all of our garments are compliant with rigorous standards set out by ENISO20471 – providing peace of mind in any hazardous environment.
At YGM, we take our commitment to safety and quality extremely seriously; this is why we have been awarded an ANSI/ISEA 107 certificate for our range of reflective fabrics and flame retardant products. Our certification means that we have met the performance specifications set out by the American National Standards Institute Safety & Equipment Association, which provides guidelines for material-specific, reflective and combination performance tests perfect for use in the manufacture of high visibility garments. Moreover, it also sets out guidelines for garment design, care labelling, general labelling and instructions – making our safe, high quality products exceeding expectations in regards to functionality, as well as form.
The National Fire Protection Association (NFPA) is the authority on fighting fire hazards, which is why their NFPA 2112 standard is so important. It enables industrial personnel to be protected from short term heat exposure by wearing flame retardant clothing that meets this particular certification. We are proud to offer H001, H002, D001-H-GS, D001-H-GSSS and other fire resistant products with this certification too. All these items have been tested extensively to ensure they can protect people when they need it most. With such a high level of safety assurance, customers are certain to feel confident in our flame retardant products.
In conclusion, YGM has a long history and strong track record in reflective products manufacturing. We have worked hard to achieve the professional certificates necessary for our exemplary safety standards. Our unwavering commitment to producing quality products has earned us recognition from customers and peers alike. We look forward to continuing to provide industry leading reflective products for many years to come. Explore our website today to view the complete line of YGM's reflective product offerings or contact us directly with any questions or concerns you may have. Thank you for choosing YGM!