Safety Jackets


Manufacturers
Your Trustworthy Safety Jackets 
Manufacturer Supplier
Your Reliable Safety Jackets Manufacturers Supplier
Multiple Types | Customized Stripes & Logos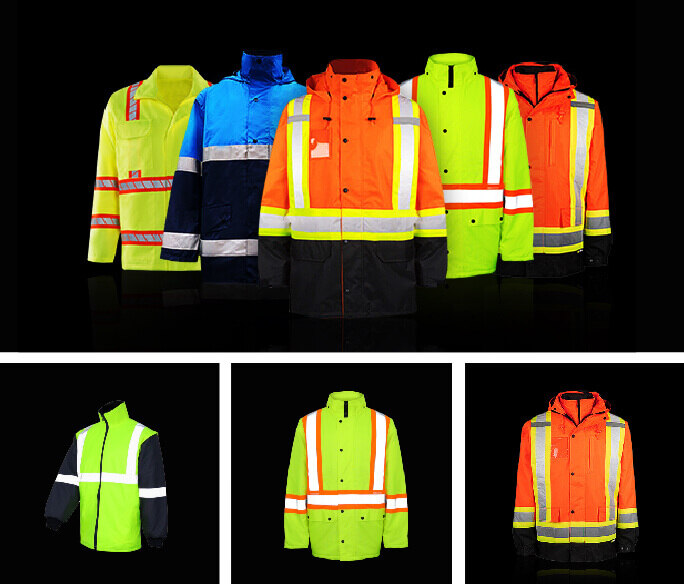 Safety in the workplace is extremely important for workers. That is why companies need access to information about custom safety gear in the workplace. Finding good safety jackets manufacturers is essential if you want to adhere to the laws and regulations that govern your industry.
With thousands of safety jacket manufacturers available, how do you know which one to pick? While this choice is certainly not difficult, it has to be a well-informed choice. Aside from manufacturing safety gear for the workplace, we at YGM want to ensure that you have all the information you need.
We are a professional safety jacket factory that caters to various industries and companies around the world. We understand how crucial it is to own reliable and quality custom safety jackets at a competitive price.
We start our guide with a breakdown of what custom safety jackets are. We will then give you some factors that you need to keep in mind when you are purchasing a safety jacket.  Lastly, we end our guide with an extensive FAQ so you can get to know us better.
Whether you need high visibility, fire resistance, or self-extinguishing custom safety jackets, we have put together this article to help you navigate your way.
Are you ready to SAVE your company money? Let's show you how the team at YGM can make this a reality for you.
Why choose YGM Safety Jackets Manufacturers?
Our Factory
Certifications
Video
YGM VIDEO Your Trustworthy One-Stop Shop To All-Things Reflective
Safety Jackets Manufacturers Category
Safety Jackets Manufacturers:
The Comprehensive Buying Guide
As we have mentioned before, certain industries are required by the law to have safety gear. A safety jacket is part of the safety gear some workers have to wear.The jackets are a light source that makes your employees more visible. It is their first line of defence against work hazards.
So how do we define a safety jacket? A safety jacket is a specific type of clothing manufactured using reflective or impact-resistant fabric. Most safety jackets are designed specifically for visibility so that the wearer can be seen clearly in dimly lit conditions. Regulations in most countries stipulate that safety jackets need to be made using colors that can be seen and glow in the dark.
For example, fluorescent colors like yellow, lime, green and orange make it easier for workers to see each other. This keeps everybody on the site safe from danger. However you are not limited to these standard colors. At YGM, we can custom make your safety jacket to meet your branding requirements.
Our manufacturing process is easily tweaked to suit your preferences. We have several varieties, materials, and features on offer. It is up to you to choose the type of safety jacket for your company. We can customize it to your specific needs and add your branding too.
You have total control over the accessories, material, branding, piping style, color, or closures you want on your safety jacket.
How to find a good supplier for your custom safety jackets?
A good supplier is essential to your business succeeding. Every area of your business has to function well in order for you to thrive. The challenge can come when you are not sure how to find a good safety jacket factory.
While every business is different, there are certain universal factors that you need to consider when looking for a safety jacket manufacturer before you place a Minimum Order Quantity. We've listed 7 things you'll need to think about to find the best supplier for your custom safety jacket:
The type of supplier: Almost every business will have to deal with different types of suppliers that range from safety jackets manufacturers, and importers to tradespeople and distributors. Safety jackets manufacturers are generally cheaper because they are the ones making the product so they can sell it to you at wholesale prices. Retailers on the other hand usually add a markup to the price.
Making a shortlist: It is important to gather as much knowledge as you can before you place an order. Make a list of at least 10 safety jackets manufacturers that you want to consider and then go through each of them until you narrow down your top three. Reach out to them and compare the quotations you get. Be sure to ask for samples as well so you have a better idea of the quality.
The sales team: Creating a good relationship with the sales team or salesperson is essential. It will determine how many mistakes you'll have to deal with. Always make sure that you have vetted the sales team and that they are up to par.
The supplier's reputation: This is the time to conduct your due diligence. Look up their online reviews, ask other people in your industry about the supplier. You can go as far as requesting references from your proposed safety jacket manufacturers. This process will help you to make an informed decision.
Cost: Your budget is a big consideration and you have to make sure that you save as much money as you can without compromising on quality. Choose a safety jacket factory who offers wholesale and discount prices for you. Always try to negotiate the price whenever you can.
Product Quality: Request samples from your prospective safety jacket suppliers so you inspect them for quality control. Look for any imperfections that you can notice on the finishings. You should also inspect the material used to determine if it is durable. Ask as many questions as you can about the manufacturing process and quality control methods.
Customer service after sales: Before you place your first order make sure to observe the after-sales process of the safety jacket suppliers. Do they have some form of follow-up process? When you had concerns did they address them? Did the products arrive in good condition? Did they get your order right? Do they have a return or replacement policy? All these questions will help you get a better idea about the service you will receive.
Buying your safety jacket and your local distributor versus a Chinese supplier
We've spoken a lot about safety jackets and we are sure that by now you have a pretty good idea about what you need. The next question to answer is where should you buy your custom safety jacket from?
We know that there are thousands of safety jackets manufacturers and distributors that you can choose from in your country and around the world. There are certainly pros and cons for each one. We decided to compare buying from your local distributor versus a Chinese supplier.
We've listed the pros and cons of each option below.
Buying from a Chinese supplier
Pros:
They are cheaper: As a wholesaler, you can order in bulk, this makes their pricing cheaper than what you'd get at your local retailer. Retail prices always have a markup so you're better off buying wholesale.
They are good at customization: Most retailers hardly have a design department. That is what makes YGM a better choice. We work with several designers and factories that can offer you unique customization features on your safety jacket. Your options are not limited to the stock that we have, we can offer you a safety jacket that is designed from scratch.
Order size: You have an unlimited amount of orders you can purchase from a Chinese wholesaler
Sales: Wholesalers in China always have sales for certain products. This means there is a higher likelihood of you getting discounts quite often.
Cons:
Turn around time: It can take over a month for you to get your delivery. This is due to factors like distance and other unforeseen delays. It might also cost you more to get faster delivery.
No face-to-face consultation: Because of the distance, it can be difficult to get a consultation when you want one.
Buying from a local distributor
Pros:
Fast delivery: Because you are buying from a retailer they have ready-made products they can deliver your order to you in less than a month.
Accessibility: Distance is not a factor with your local distributor so you can get an in-person consultation faster.
Cons:
Price: Retailers are more expensive than wholesalers
Limited customization: Most retailers are at the end of the supply chain so they do not have access to designers and factories that could offer unique customization at a moment's notice.
Order size: You are unlikely to get orders over 100 with your local distributor.
Classification of Safety Jackets
There are specific standards that are used worldwide to determine the features that safety gear needs to have. The (ANSI) American National Standard for High-Visibility Safety Apparel and Accessories has a published set of regulations that clothing has to meet. Each safety jacket manufacturer or employer in various industries has to adhere to these regulations in order to keep workers safe.
Safety jackets and vests are broken down into three performance classes that are based on the work environment. These are
 Performance Class 1

Under this class, all safety clothing has to have reflective tape that wraps over the shoulder and around the middle. The colors have to be fluorescent enough to be visible in low-light areas. However, these class 1 safety jackets or vests are worn by people who work in environments that are considered low-risk.

 They still have some level of risk when it comes to accidents and injuries. For example, work environments where the traffic speed is set at a 25mph maximum are classified as low-risk. People who are authorized to wear this class work away from busy roads or heavy equipment. These could be warehouse workers, parking lot attendants, or supermarket cart attendants.

Performance Class 2

In this class, safety jackets are worn for higher-risk work environments such as highways where traffic moves at a maximum of 50mph. They are required to be larger in size compared to class 1 garments so that they can cover larger parts of the body.

The regulations require that these garments have at least 775 sq inches of hi-vis fabric and at least 201 sq inches of reflective material. Certain professions that fall under this category include; toll gate personnel, school crossing guards, traffic police, airport ground crew, road survey crew, and railroad workers.

Performance Class 3

In this class, safety jackets are meant to be worn by those in the highest risk work environment where high speed and heavy traffic is found. Hi-vis background material has to measure 1,240 sq inches, and the reflective material should be 310 sq inches. The material must cover the arms and the legs; this means that safety vests are disqualified from this class.

The safety jackets in this category are excellent for low-light environments and low visibility weather. Workers who would typically wear class three safety jackets include; emergency service workers and roadway construction workers.

So how will you know which performance class is suitable for you? The ANSI standards further break down these classes into three different types; roadway, public safety, and off-road. These breakdowns are what you need to use to determine where your business falls.
Take a look below at the distinction provided by the ANSI regulation standards.
Type O(Off-road):
Businesses should use them in environments that are far away from busy highways or high traffic. This includes workers such as:
Shopping cart retrievers
Warehouse workers who operate heavy equipment
Fossil extraction, refinery, or mining worker
Type R ("roadway"):
Applies if your business environment interacts with high traffic volumes. This includes workers such as:
Tollgate operators
School crossing guards
Airport ground crew
Towing drivers and staff
Parking attendants
Roadway construction workers
Type P ("public safety"):
As the name suggests, these businesses involve working with the public. So typically, you will find these types of safety jackets being worn by people who work as:
Police officers
First responders
Firefighters
Auto accident investigators
Road closure workers
Top Benefits Of High-Quality Safety Jackets
If you work in an industry that poses a physical risk to your employees, safety should be your top priority. Customized safety jackets are an essential consideration for any company that wants to avoid lawsuits and work accidents.
High-quality safety standards could also make a difference when applying for big international or government projects. The industries that need to be concerned about custom safety jackets include:
Construction Sites and Workers
Airport Ground Crew
Law Enforcement officials
Parking Lot Attendants
Emergency or First Responders
Fire Fighters
Cargo Loading
Warehouse Workers
Road Construction Crews
Hunters
Toll Booth Operators
Survey Crews
Other benefits that these industries get from high-quality custom safety jackets manufacturers include:
They create a safe environment for workers.

We have mentioned this benefit several times before, but its importance cannot be understated. For businesses in high-risk industries, safety is connected to the success of the company itself. Creating a safe workspace for workers is essential to the survival of the business.

Companies and employers need to account for safety regulations and preventative measures against work accidents. Employees who feel safe become better workers. They have more morale, and their productivity increases significantly.

They increase visibility.
Again we have mentioned this benefit before, but we feel it is important to reiterate. High visibility in a hazardous work environment can be the difference between life and death for your employees. If your business requires you to work with machinery or specific vehicles, then you need to make sure that every employee can see each other. Custom safety jackets minimize your risk of work-related accidents, which can put a dent in your finances and reputation.
You can work in any weather.
When summer rolls by, the most common safety gear you find being used in safety vests. However, if you work outside during the colder months, custom safety jackets are what you need to consider. Not only do they make your employees more visible, but they also help to protect them from the cold weather through insulation. This means your work can continue regardless of what the weather is like.
They encourage teamwork and security.
Making sure that your team has customized safety jackets will boost their confidence and sense of belonging to the group. They will also make it easier to identify any unauthorized people who visit your work environment. Making sure that you can locate your team is essential to maintaining safety and security.
What to consider when choosing custom safety jackets?
Now that you know the basics of what safety jackets are, why they are essential, and the available types, let's discuss the other factors that you need to consider.
It is crucial that you understand certain things before you choose your custom safety jacket. These factors will determine the type of jacket you'll need for your business requirements.
Assess and understand your working environment
You need to assess the working environment that you have. This exercise will help you discover the possible dangers that might face you or your workers. Certain pertinent questions will help you to navigate your way around this.
For example, do you need protection from extreme weather conditions like rain, cold temperatures, or snow? Is there a danger of fire due to electrical faults, chemicals, or other flammable material?
You need to be open-minded and consider every possible hazard regardless of how likely it could be. Talk to different members within your company so that you have an idea of what each department might need in terms of safety features.
Every department faces different challenges such as exposure to sharp objects, chemical poisoning, extreme temperatures, impact injuries, radiation, or dust. You must assess each department's needs separately. A one-size-fits-all approach is not a good strategy.
Think about the design of the jacket
Once you know the dangers, you can order a custom safety jacket at YGM that has the safety features you need. Remember to think about functionality as well. Consider what your staff will need every day in order to complete their tasks.
Think about the design of the jacket and where you'll want useful features such as pen slots, pockets, or cellphone holders to be placed. The goal is to enhance the efficiency of your workers while you protect them.
Consider also the comfort of the jacket. Will you need ventilation? Lighter material? A poorly designed safety jacket can have negative effects on the productivity of the workers. For example, heavy safety gear leads to quicker employee fatigue. However, if the custom safety jacket is comfortable, your workers will likely enjoy wearing them.
The safety jacket must fit properly.
To get the best experience out of the safety jackets you purchase, your employees need to be able to carry out their job without any challenges.
The employee should have a full range of motion in high-risk environments without the jacket tearing or constricting movement. The safety jacket must fit properly so that an ill-fitting jacket does not compromise the employee's safety. This includes the weight and flexibility that the jacket offers as well.
Quality and durability of the materials
To get the most out of the custom safety jacket that you purchase, take into consideration the quality and durability of the materials. Cheap can end up being expensive for your company when you keep replacing your safety gear often.
Look for safety jacket suppliers that will serve your employees for a more extended period of time. Although, you need to remember your working environment also determines the durability. Never compromise on the quality of your safety gear because of a lower price. Premium products might seem expensive now, but they will save you money in the long run.
Investment in premium safety gear will help you prevent fatalities and accidents that could be avoided. It is the company's duty to ensure that the well-being and safety of your employees are guaranteed to the best of your ability.
Why do you need a safety jacket?
A safety jacket is important for a variety of reasons. If you work in an industry that exposes you to risk, a safety jacket is designed to improve your overall visibility to others. This is perfect if you work at night or in low-light settings.
What types of safety jackets does YGM offer?
YGM has 13 types of safety jackets that you can choose from. We have multiple logo styles that you can choose from. These include; PU Vinyl Heat Transfer, Embroidery, Silk-Screen Printing, Silver Vinyl Heat Transfer, and Rainbow Vinyl Heat Transfer.
Additionally, we have several piping styles that you can pick. These include:
Silver Reflective Piping
Colorful Reflective Piping
Black Knitted Fabric Piping
Black Knitted Fabric Piping
Black Woven Fabric Piping
Fluorescent Orange Knitted Fabric Piping
Fluorescent Yellow Knitted Fabric Piping
Fluorescent Orange Knitted Fabric Piping
Lastly, we have several reflective tapes that will meet any ANSI standard as well as a different zipper or velcro patterns to choose from.
What materials does YGM use to produce safety jackets?
Fabric: Oxford Fabric/Twill Fabric
Lining: Polar Fleece/Mesh Fabric
You can choose from our wide selection of materials such as:
Fluorescent Orange Oxford Fabric
Fluorescent Yellow Oxford Fabric
WhiteTwill Gabardine
Fluorescent Orange PolarFleece
Fluorescent Yellow PolarFleece
What should I know before ordering a safety jacket? What are the most important things to keep in mind?
Before you purchase a safety jacket you consider the following:
Durability: Depending on the environment that you work in, you may need to wear a safety jacket every day. This means that the product you purchase has to be made with high-quality material. The finishing also needs to be double-stitched so that it can last for 6 months to a year without considerable wear and tear.
Comfort: A safety jacket should be comfortable enough for everyday wear. It should not restrict your movement or weigh you down. If you work in high-temperature environments then your safety jacket should be breathable and lightweight to prevent overheating. The opposite is true if you need insulation because of a cold working environment.
Care instructions: It's likely that you will have your safety jacket for a long period of time. Durable and washable materials are best for safety jackets. This will make taking care of your safety gear a breeze. Remember to avoid using harsh detergents that will compromise the integrity of the material.
Reflectivity: There are prescribed standards that safety jackets have to meet when it comes to reflectivity. The reflective stripes should be visible both during the day and at night. The stripes need to also be visible during the day when the sun has dimmed the brightness of the background fluorescent fabric. The same is required in low-light settings. Additionally, the stripes need to be visible all around the torso, so even when you are laying down with your chest at least 40 percent of the material should be visible on either side. This is important in environments where there is heavy machinery that is being operated. Any driver should be able to see you regardless of your location.
Pockets: The last thing to consider is the design, more specifically the placement of pockets. Depending on where you work and what you need to carry a custom safety jacket should cater to your requirements in terms of storage.
Does YGM manufacture safety jackets? Can I order a safety jacket from YGM?
Yes YGM has five factories and more than 30 production lines that work towards meeting the safety needs of over 50 countries.
And, yes you can order a safety jacket from YGM, the ordering process is generally easy to follow. Consult our website for more details.
What size safety jacket should you wear?
We have different sizes available for purchase. We make them according to the style of the jacket so please refer to our size chart or contact our sales team for assistance.
Can I order a custom-size safety jacket? Are the accessories customizable too?
Yes, you can order a custom-size safety jacket from us. We can customize and give you any fabric, color, and size you need.
Yes, we can custom make any accessories that you have whether it is a zipper or hook or a loop or button. We also do pockets, piping, washing label, woven label, hangtag, reflective tape (Fire retardant reflective tape or PVC reflective tape or silver or gray reflective tape or a woven warning tape.)
When customizing a safety jacket, what are the options for the logo?
We have three different options for customizing a safety jacket. These are:
Screen printing
Vinyl heat transfer(Silver/Rainbow/Other color heat transfer vinyl)
Embroidery
Can I use reflective heat transfer vinyl on my safety jacket?
Yes. You can hot press the reflective heat transfer vinyl on the jacket in a strip or logo style.
What are the options for the location of the logo on the safety jacket?
We accept any customization that our clients need for the placement of the logo on the safety jacket.
Usually, however, we place logos on the left or right side of the chest or on the back.
What styles does the pocket of the safety jacket have? Where can I put it?
We can customize your pocket placement and put it anywhere you like.
In terms of the styles of pocket to choose from, we have the following:

Patch Pockets.
Side Seam Pockets.
Flap Pockets.
Zippered Pockets.
Hidden Pockets.
What are the styles of washing labels on safety jackets? Where can it be placed?
We can place the washing label anywhere you want on the safety jackets.

We have three common washing label styles that we use for our safety jackets. These are:

Ordinary style
Colorful style
Colorful woven label style
Can the tags of a safety jacket be customized?
Yes, we do customization of the tags on a safety jacket. However, the MOQ needs to be at least 3000pcs.
How long does it take for YGM to manufacture a safety jacket?
Our usual delivery time is 25-35 days after the sample is confirmed. However, this may vary depending on the specifics of the order arrangement.
Do you offer safety jacket samples? How long does the sample delivery time take?
We do offer sample safety jackets according to the customer's design. This is not a free service however so you will be charged a proofing fee.
Proofing time takes about 7 days to complete.
What is the ANSI Class 1/2/3 safety jacket?
There are three classes of safety clothing, each for a specific industry or job classification.
Class 1 is designed for areas that are far away from traffic or where the traffic that is around does not exceed 25 miles per hour. A Class 1 vest or jacket must have a minimum of 6.46 linear feet of 2-inch reflective tape or 9.39 linear feet of 13.8-inch reflective tape and at least 217 sq inches of high-visibility background fabric.
Class 2 is meant for areas where traffic does not exceed 50 miles per hour. This is usually meant for roadways but will not include highways. A class 2 safety jacket needs to have a minimum of 8.375 linear feet of 2-inch reflective tape or 12.2 linear feet of 13.8-inch reflective tape and at least 775 sq inch of high-visibility background material.
Class 3 is meant for highways and roadways where speeds exceed 50 miles per hour. A Class 3 safety jacket must have a minimum of 12.92 linear feet of 2-inch reflective tape and at least 1240 sq inches of high-visibility background material.
What is the difference between ANSI Class 2 and Class 3 safety jackets?
Class 2 safety jackets are designed for people who work near heavier traffic and or in low visibility areas. Visibility issues caused by the weather in some areas may qualify an environment for a class 2 safety jacket. Workers are required to be a good distance away from traffic. People who typically wear class 2 safety jackets are airport workers, high-volume parking or toll booth operators, and forest workers.
Class 3 safety jackets are designed for people who work in higher-risk areas where traffic exceeds 50 miles per hour. These workers include; site inspectors, emergency responders, railway workers, and utility crews.
Type P (public safety) is meant for people who work in public service. This includes emergency or first responders or law enforcement personnel who are exposed to high-risk hazards. They are meant to provide extreme visibility and can have extra features that are necessary for various work environments. They can be from class 2 or 3.
Type O (off-road), for workers who work away from roads and are not exposed to high traffic or temporary control zones. They tend to be limited to class 1 safety jackets only.
Type R (roadway), is for use by workers who are exposed to traffic from public access highway rights-of-way or roadway temporary control zones. The jackets can be from class 2 or class 3.
How to verify the quality of safety jackets?
You have to assess the following parts of the safety jackets:
Logo
Sizing
Sewing and its durability: Check the seams and stitches to determine the durability of the safety apparel
Styling: Check if it meets the standards requested by the customer
Reflective area: Check if the reflective tape and fluorescent fabric meets with the standards and regulations
Label: Check whether the label content and style match the customer's requirements
How do I ensure the safety jacket remains at its best quality?
When your safety jacket has outlived its usefulness, the best course of action is to replace it so you look professional and avoid putting yourself in danger.
Use the following tips to make your safety jacket in good condition:

Store away from direct sunlight
Keep it clean as much as possible
Store it in a place where you have ample space to avoid squashing the garment
Check the washing label so that you know how to wash it properly
Best File Format for the logo of safety jacket to Printing
Are YGM safety jackets always available and in stock? Do I need to pre-order and await new stock for months after ordering?
Whether it is a regular jacket or a customized jacket, it needs to be produced to order.
What type of packaging options do you offer at YGM for safety jackets?
We offer customized packaging depending on how big your order is.
What is the total production capacity of YGM for safety jackets?
Monthly about 1.5 million PCS safety jackets.
How long do YGM safety jackets last?
All safety jackets require you to replace them periodically. In general, you need to replace a safety jacket at least 6 months after daily use. If you use it occasionally it can last up to three years.
At the end of the day the most important this is finding the best safety jackets manufacturers for your company at reasonable prices. It's not easy to navigate your way around purchasing custom safety jackets if you don't have the right information.
Upholding the safety of your workers is very important and can make a difference in the success of your company. We hope that you will be able to implement all the tips that we have given you today.
Start your journey with our awesome custom safety jackets. Contact us to find out more about our products.  We at YGM are looking forward to working with you to create a safe environment for your workers. What are waiting for?  Enquire NOW!