Your Trustworthy Safety Clothing 
Manufacturer Supplier
Your Reliable Safety Clothing Supplier
Multiple Types | Customized Stripes & Logos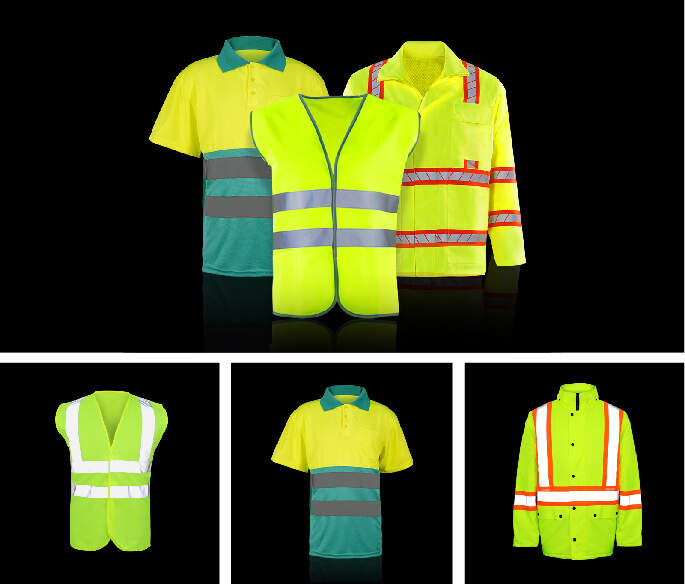 When it comes to personalized safety clothing suppliers, we have a lot of options.

Safety vest

,

safety jacket

,

safety t-shirt

, and other garments

are designed to make

the user

'

s body

visible in the dark

to

avoiding injury. Safety must be taken very seriously regardless of what business you work in.
A number of dangers can all be protected by wearing safety apparel. A security vest is described as clothing made of reflective fabric that increases visibility or shields the person's body. It comes in different colors, and depending on your branding needs, you can choose either red or purple safety clothing suppliers.
Why choose YGM Safety Clothing Supplier?
Our Factory
Certifications
Video
YGM VIDEO Your Trustworthy One-Stop Shop To All-Things Reflective
What Are Custom Safety Vests?
Customized protective vests are not only for appearance. In reality, when operating on national highways, construction workers are required by law to use vests with a Class 2/3 grade.
Customized printed danger vests are available in a variety of styles, functions, and even fabrics. This kind of vest is made to reflect as much light as possible. As a result, those who use it are protected from injuries.
With that said, the protective vest can be customized in any way you choose. Almost every aspect of the vest can be adjusted to your specifications. The best part is that you get to choose everything from the vest's fabrics to its attachments, fasteners, brand logo, stitching design, and reflective tape hue.
Whenever you purchase from a safety clothing supplier, you have the freedom to design the safety vest to your precise dimensions.
Safety Clothing with High Visibility
On worksites and highway maintenance projects, high-visibility gear is required.
It's intended to increase your general visibility to everyone else, which is ideal whether you're operating in dim or low light environments. It improves visibility for vehicle drivers and operators.
The Health and Safety Executive establishes extremely specific norms and regulations governing the usage of personal protective equipment (PPE), such as the acceptability of hi-vis clothing.
Hi-vis safety clothing wholesale comes in a variety of fluorescent colors, including green, yellow, orange, and even red. It also includes retro-reflective strips.
Custom Safety Vests are available in 18 different styles.
There are several different sorts of customized vests to pick from nowadays, ranging from fabric to durability and safety systems.
Take a look at an overview of the entire list of types to see which one is ideal for you:
The two-tone vest is a protective singlet that has 2 tones such as neon yellow, blue, orange, black, and green.
Pocket vests have up to 11 pockets, internally or externally, and also zippers, velcro, or buttons.
A pocketless safety wear apparel lacks sections, pockets, or slots for storing or carrying items such as cellphones, sticky notes, pens, and other items.
A surveyor vest is a particular piece of clothing meant to safeguard personnel in low-visibility environments, such as on the highway or on train tracks.
Mesh apparel is constructed of bird-eye fabric, mesh, and oval mesh fabric, among other components.
A solid vest is made entirely of woven polyester or oxford cloth. Class 2 certification is frequently used.
Breakaway vests are specifically designed to avoid snagging-related mishaps. The vest has 5 breakaway spots, 2 of which are in the shoulders, 2 on the sides, and 1 in the front.
Adjustable vests comfortably suit people of all sizes, offering various personnel to utilize them without having to purchase a new size for everyone.
Metal or plastic rings are used to create reflective trim on safe clothing. With that kind of system, attaching items such as a smartphone, flashlight, hammers, and so on is simple and safe.
Based on the safety standards and specifications, ENISO 20471 safety vests are divided into three classes: 1, 2, and 3. The amount of reflecting and fluorescent material is defined herein in accordance with requirements.
Non-certified vests haven't been authorized by any certifying authority, hence they're less expensive. These, on the other hand, are built for a higher-than-average level of sight.
X-back vests are those that have reflective tape in the form of an X on the rear of the coats, usually made of silver-tape with 2-inch dimensions.
FR vests, or fire-resistant vests, are made in compliance with the highest fire-retardant requirements.
When operating in freezing or low-temperature environments, insulated vests have the extra benefit of water resistance on top of an extra layer thickness to keep the user warm.
Reversible safety coats can be worn on both sides, giving them a two-fold utility.
The public safety waistcoat is available in a variety of hues, including orange, green, and yellow.
Hi-gloss vests are safety garments that have received ANSI Class 2 certification. For better shine and visibility, they are normally designed with a lot more transparent surface than other types of safety clothing.
Hi-Viz clothing is a common abbreviation for high-visibility clothes. This type of clothing is made of luminous materials, which improves the user's visibility in low-light situations.
Ensuring the Highest Amount of Protection on Work
According to regular usage, hi-vis clothes should last about 6 months. Of course, if it isn't used every day, a hi-vis clothing could last longer. However, individuals working in difficult and dangerous situations might find that it typically only lasts up to 6 months. The industry and the job role have a significant impact on the garment's effectiveness.
Users should be on the lookout for signs of damage at all times. Ensuring that it still complies with all ANSI visibility requirements (the high visibility clothing regulations).
It's critical to double-check that your work wear. Here are some signs when it's time to replace your hi-vis clothing:
When it has started to fade, i.e. the luminous cloth has become discolored and dull in color
When it is harmed, particularly if the reflective strips are harmed or worn
If the fluorescent clothing is no longer visible from a certain distance (1,000 feet is the recommendation)
When it is filthy to the point where you can't clean it to a decent standard
When it is it ripped in several places
When it isn't as comfortable as it once was
if you have any reservations about the efficacy of your hi-vis clothing
Things to Consider When Looking for the Finest Safety Clothing Manufacturer
Are you searching for the top safety vest company? While size is one method for locating a reliable supplier, there is a slew of other factors that you need to consider when making your choice. Quality control, fabric type, functionality, reliability, and the vest's pricing are all factors that go into choosing the finest provider.
Here's everything you need to know about finding the best safety clothing supplier:
Reflective vests are made by two different sorts of vendors. The first sort of safety clothing manufacturer makes their original vests and the second purchases from somebody else, adds a charge, and offers it to clients. Dealers are similar because they do not create their personal vests. It's always preferable to purchase from a safety clothing company that also operates a plant.
Bear in mind that before you begin your in-depth search for a safety clothing supplier, you must first create a shortlist of 10 vendors where you can get price estimates. Pick 2 to 3 safety clothing suppliers and get samples based on the quotes. After considering all necessary factor, stick to one safety clothing company when making a purchase.
The greater your connection with a marketing manager is, the simpler it would be to get the purchase just as you'd like, such as by speaking in a preferred language like English, French, or Spanish. Simply put, if the salesman operating for the safety clothing manufacturer isn't up to par, you'll have more problems than earnings.
References and reviews are the first phases in vetting a safety clothing supplier. This will assist you in determining the caliber of their items as well as the quality of their customer service.
Specify the kind of safety gear you prefer. Polyester, reflective tape, fluorescent cloth, and other materials may be used.
Whenever it comes to finding the top customized safety clothing supplier, you must consider even the slightest factors. Specifically, personalized security vests with pockets, closing type (velcro, zip), business logo, and so on.
The Zhejiang Region in China is the economic belt for manufacturers that make safety clothing wholesale.  Therefore, it's usually better to discover safety clothing manufacturers from there.
Whether you are a novice or a pro, buying vests in bulk can save you a lot of money. Before you confirm the order, try to negotiate and ask for discounts if possible.
When purchasing safety clothing wholesale, one of the most important aspects is a good sample, which is possible after you determine the Minimum Order Quantity. Before you agree to a long-term transaction, make sure you select a sufficient number.
Examine the sample piece you got for quality assurance. Before making the purchase, ask for videos, photographs, and other specifics such as fabric content. Ask about the safety clothing supplier's quality control procedures to verify that every purchase you place is consistent in quality.
One aspect of customs security that is sometimes overlooked is the safety clothing wholesaler's post-sale services. Do they respond to your concerns? Are their goods exactly what they claim to be? What are their procedures on returns and replacements? When you receive the samples, ask all of the required inquiries so that any inconsistencies in your major purchase do not surprise you.
Safety Clothing Supplier:
The Comprehensive Buying Guide
Safety clothing includes vests, jackets, T-shirts, etc. Reflective tapes for garments are available in vivid colors such as yellow, orange, green, and even red.
Meanwhile, safety clothing is any garment that is specifically designed, processed, or produced to protect employees from threats posed by harsh weather or a hazardous workplace. Various safety clothes may be designed to protect consumers against injury in the low light environments.
Why do you need safety clothing?
Safety clothing is essential in the workplace because it safeguards users from potential safety hazards. It reduces the risk of injury while also ensuring a safe and enjoyable work environment for everyone.
The significance of safety clothes can't be overstated. With a heavy focus on safety and in most sectors these times, being prepared for the work fulfills your responsibility as an administrator and guarantees that your team is secure and injury-free.
What types of safety clothing does YGM offer?
YGM offers different types of safety clothing. That includes customized safety vests such as a 2-tone vest and surveyor vest, hi-vis jackets, safety shirts and sweatshirts, reflective raincoats, and reflective pants.
What available materials does YGM use to produce safety clothing?
The reflective safety vest from YGM is constructed entirely of polyester tricot fabric, mesh fabric, and bird eye fabric. The fabric used in YGM jackets is Oxford Fabric 100% polyester tricot fabric. Meanwhile, polar fleece/mesh fabric is used on the inside.
For their safety shirts and sweatshirts, fabrics in this category are 100% polyester tricot fabric/Mesh fabric/bird eye fabric. The material for the YGM Reflective Raincoat is Oxford fabric.
Lastly, 100% polyester tricot fabric is selected for the YGM Reflective Pants.
What should I know before ordering safety clothing? What are the most important things to keep in mind?
When looking for good safety clothing supplier, keep the following elements in mind:
Fit – When purchasing apparel, it is important to consider the fit. It should be comfortable for the person wearing it. Over normal clothing, employees will wear high-visibility apparel. You should double-check the measurements of the employees you're purchasing for as well as what they'll be wearing under.
Coverage – Evaluate how much of the body the high-visibility clothing covers. To improve visibility, choose jackets over vests. You should have fluorescent striping on the front and back of the clothes.
Fabric types – Make sure the high-visibility clothing you select for your employees from safety clothing manufacturers is of good quality. They must keep their fluorescence. The fluorescence of polyester, acrylic, and nylon lasts the longest.
Does YGM manufacture safety clothing? Can I order safety clothing from YGM?
YGM is among the most innovative reflective tape, cloth, and material manufacturers in China, with over three R&D facilities. Our warehouse is one of the best in the country, with all the necessary equipment to manufacture and store millions of reflective materials, from vests to textiles, sheetings, tapes, and anything reflective.
Whenever it comes to ensuring the highest quality reflective sheeting and material, YGM goes to great lengths to make sure that only the finest reaches customers.
You can order and send inquiries about YGM's safety clothing by visiting our website – https://cnygm.com/custom-safety-vests.
What size of safety clothing should you wear?
Safety clothing can range from a safety vest to a safety jacket, dependent on your field of work. Your safety clothing can save your life or prevent you from little pain. Therefore, it's crucial to choose the correct safety clothes, and finding the right size would be just as critical.
You can use the size guide on our webpage or speak with one of our sales representatives to determine the correct safety clothing size for you.
Can I order a custom-size of safety clothing? Are the accessories customizable too?
In YGM, anyone can purchase safety clothes with customized fabrics, colors, and sizes.
YGM created divided reflective heat transfer vinyl and perforated reflective fabric for their customers. These all have strong air permeability and can be used in hot weather. The sizes of the segments and the opening can be adjusted to meet the expectations of the consumer.
Closures, pockets, piping, washing labels, woven labels, hangtags, reflective tape (Fire retardant reflective tape/PVC reflective tape/ Silver or gray reflective tape/Woven warning tape, etc.) can all be customized.
When customizing safety clothing, what are the options for the logo?
You can have the following options:
Screen printing – In the promotional products market, screen printing is among the most widely utilized processes for customized goods. Soft fabric items, such as safety apparel, could be screen printed.
Heat transfer vinyl (silver, rainbow, or other color vinyl) – Heat transfer vinyl is a handy method for adding unique details to clothing and accessories, such as logos, names, and photos.
Embroidery – Clothing with a design or emblem embroidered into the fabric is referred to as embroidery. Logos on sturdier clothing, like polo shirts or sweaters, are best embroidered. Embroidery on clothing lasts a long time and is quite durable.
Can I use reflective heat transfer vinyl on my safety clothing?
Heat transfer vinyl is a sort of permanent vinyl that could only be transferred by applying heat to it. Shirts, blankets, pillowcases, and other such items are commonly used. That's why it is possible to employ reflective heat transfer on your protective gear. On top of the heat transfer vinyl is a carrier sheet. It's identical to transfer tape, except it can take a lot of heat from a heat press or an iron.
What are the options for the location of the logo on the safety clothing?
The logo on a safety garment, such as a vest, is usually placed on the left or right chest, or on the backside. However, because YGM accepts customer modification, if you like to place it somewhere else, that is also feasible.
What styles does the pocket of the safety clothing supplier have?
Here are some styles to choose from:
Patch Pockets – The patch pocket is the most common type of pocket. It might be a different color or simply top embroidered to add some design.
Side Seam Pockets – The side seam includes this pocket. Because it is hidden and serves no ornamental function, it is commonly referred to as the secret pocket.
Flap Pockets – The flap pocket is built with a flap that conceals the pocket's opening, as the names imply. Suit jackets contain flap pouches, which are normally rectangular but could have a pointy or curving bottom.
Zippered Pockets – Pockets with zippers at the top, bottom, or even sides provide a safe pocket closure while also adding ornamental flair.
Hidden Pockets – These pockets are constructed with the goal of concealing or hiding something important. To keeping their papers and important transportation things secure, travelers frequently use hidden pockets.
You can put your pocket wherever you like in customize clothing.
What are the styles of washing labels on safety clothing wholesale?
There are three namely ordinary style, colorful style, and colorful woven label style.
The care instructions must show on the outside of the packaging or on a hanging tag connected to the item if the item is packaged, displayed, or folded in such a way that users can't read or easily find the labeling.
Can the tags of safety clothing be customized?
Yes, but the minimum order quantity or MOQ needs to reach 3000 pieces. If you reach the required number of pieces, you can already customize the safety clothing tags.
How long does it take for YGM to manufacture safety clothing?
Our usual delivery time is 25-35 days after the sample is confirmed. That's why the sample design of your customize safety clothing is crucial in determining the delivery period.
Do you offer safety clothing samples? How long does the sample delivery time take?
YGM can manufacture prototypes to a customer's specifications. However, there is a proofing cost. The average proofing time is roughly 7 days.
What is ANSI Class 1/2/3 safety clothing?
It refers to the classification of safety vests:
This class of vest is usually used by employees who are in low-risk situations but are nonetheless in danger of injuries and mishaps. People who are suitable for this vest are workers in a place where traffic speeds are less than 25 mph and labor is commonly done away from major highways or heavy machinery. This safety vest is typically worn by parking garage personnel, grocery cart drivers, and warehouse staff.
This class of vest is usually used by employees who are in high-risk situations, such as on highways at speeds of up to 50 miles per hour. Since there is a higher risk of injuries and a higher requirement to be visible, these gears are bigger than Class 1 vests. These vests are worn by highway survey teams, railroad employees, toll gate employees, school crossing guards, traffic officers, and airport ground crews.
Individuals who operate in high-risk environments with lots of traffic and fast speeds typically wear Class 3 vests. In low-light and rainy weather scenarios, this type of vest is also beneficial. Roadway construction employees and rescuers are among those that wear Class 3 Vests.

What is the difference between ANSI Class 2 and Class 3 safety clothing?
People working in high-traffic areas will be required to wear Class 2 safety vests. Weather conditions in some areas might reduce visibility, and traffic speeds may exceed 25 mph. Oncoming vehicles must be kept at a safe distance from personnel. Class 2 vests are worn by airport staff, toll gate employees, and forest employees.
Class 3 protective gear, on the other hand, is intended for those who work in high-traffic locations, such as rescue personnel, railroad workers, site surveyors, and electrical staff. In high-traffic regions, traffic speeds may approach or surpass 50 miles per hour. Workers sometimes operate alongside the street or in other potentially dangerous situations. Wearing this class of protective gear will make them highly-visible to avoid accidents.
Type P – Public Safety Use (Class 2 and Class 3)
It improves vision for emergencies and accident rescuers, as well as law enforcement officers, on and off the road. It's usually intended for disaster and crisis responders as well as for law enforcement officers who operate in the roadway or off-road areas and are subject to hit dangers. Additional alternatives for dealing with conflicting hazards or the requirement for specialized equipment are provided by these outfits. Performance Class 2 or 3 may apply to Type P HVSA.
Type O – Occupational HVSA for Non-Roadway Use (off-road)
Employees in occupational situations that face struck-by threats from moving cars, machinery, and apparatus will benefit from the Type O HVSA, which does not cover vulnerability to traffic on open access roadway rights-of-way or highway temporary traffic control (TTC) areas.
Type R – Occupational HVSA for Roadway Use (roadway)
Workers in working settings where they are exposed to traffic (cars and trucks using the roadway for reasons of transportation) from open access road rights-of-way, highway temporary traffic control (TTC) areas, or roadway temporary traffic control (TTC) area can benefit from Type R HVSA.
How to verify the quality of safety clothing?
Here's a rundown of everything you need to know about checking the quality of safety clothing:
If you ordered a company logo on your safety wear, the very first thing to examine is the placement and imprinting of the logo on the gear.
Use a measuring stick to cross-check with EU and US standards in relation to the customers' needs to see if it meets the criteria.
Examine the stitches and seams to see how long the safety clothing will last.
Is it styled according to the customer's wishes? Verify that the styling is flawless because if one problem occurs, there's a good probability that others will as well.
Check to see if the reflective tape and fluorescent fabric adhere to the rules and regulations.
Check to see if the company's sewn label clashes with your own logo or other design elements.
How do I ensure the safe clothing remains at its best quality?
Even the most highly trusted safety equipment in the world won't last forever.
Over time, safety gear will have to be replaced to guarantee that it is still fit for the job and keeps you safe while in the workplace. For this reason, it's necessary to regularly check your safety apparel for any damages. When you notice it's worn out, it's definitely time to replace it and get a new one.
Maintaining the Condition of Your Safety Clothing
Hi-vis gear is an important aspect of a tradesperson's personal protection equipment, but it isn't indestructible. Changing it is necessary as it not only makes you look good, but it also keeps you safe and secure. Read some of the recommendations below to help keep your hi-vis clothing in great shape.
All hi-vis gear should be kept out of the bright sunlight when not it use to prevent the colors from fading and limiting its efficacy.
Maintain a clean appearance. This may be difficult to achieve on a daily basis, particularly on construction projects, but washing and removing dirt at the end of the day will help avoid dirt from developing and causing permanent stains and damage to your equipment.
Don't cram your clothes into even the tiniest of places. It exerts more strain on the garment's fibers, causing them to break down more quickly.
Wipe down the clothing in between complete washes to help it last longer.
Constantly keep an eye on the label. Because not all high-visibility clothes can be machine washed, it's critical to follow the manufacturer's directions to preserve the outstanding quality of your garment. Some hi-vis safety clothing suppliers will state how many times they can be laundered before the reflective strips lose their effectiveness.
Note that different products and brands will have different rules for maintaining your safety clothing completely safe and it's critical to follow them on all occasions.
Best File Format for the logo of safety clothing supplier to Printing
YGM's Preferred file artwork are the following:
A CDR file is a vector graphics document that stores a digital photo that has been compressed and encoded so that it may be viewed and edited by vector editing software. Documents with the CDR extension are meant to be used with CorelDRAW and other Corel programs.
Adobe Systems developed the AI images file format. The term "Adobe Illustrator Artwork File" is an abbreviation for "Adobe Illustrator Artwork". AI files include a single page of vector-based images. Because the visuals preserve their intricacies at full magnification, the data of an AI file could be used broadly.
Adobe created the Portable Document Format (PDF) in 1993 to deliver files, comprising text formatting and graphics in a way that is free of software applications, equipment, and operating systems.  Each PDF file, which is based on the PostScript language, presents a full specification of a fixed-layout flat page, containing fonts, text, vector images, raster images, and other data requested to show it.
Adobe Systems Incorporated created the Encapsulated PostScript File Format (EPS), also known as EPSF, in the late 1980s to make it easier to integrate images into text content for printing. Adobe's PostScript system is used to produce a particular rectangular image in an EPS document.
The EPS type is especially well suited to vector images and visuals that mix vector images with raster data, also known as "metafiles." In scientific journals in 2017, it is still extensively used for such visuals; vector graphics are generally preferred since they are adaptable.
Are YGM safety clothing always available and in stock? Do I need to pre-order and await new stock for months after ordering?
Whether it's ordinary apparel or customized clothing, YGM requires it to be made to order.
What type of packaging options do you offer at YGM for safety clothing?
The types of packing we offer in YGM are the following:
Observe Show
Internal Packing
Outer Packing
What is the total production capacity of YGM for safety clothing?
In YGM, the estimated quantity of safety clothing we produce is about 5 million pieces monthly.