Your Trustworthy Reflective Textile Manufacturer Supplier
Your Reliable Reflective Textile Supplier
Multiple Types | Customized Stripes & Logos
Reflective materials are one of the finest inventions. There are not one, not two but countless uses of reflective materials. And with time, it has gained massive adoption across various industry sectors.
While most of us have seen reflective tape being used in road safety, it is not just limited to that. Today, a variant of reflective materials known as the reflective textile is also used in various other applications.
The use of reflective textiles is primarily seen in fashion clothing, especially sportswear and activewear. The sole reason for this is various characteristics such as softness, reflectivity, etc., that will be highlighted later.
Other than different characteristics, the reflective textile is also available in various variants. We at YGM produce all of these variants of reflective textile and ensure that they are of optimum quality. Check out some of our best products!
Why choose YGM Reflective Textile ?
Our Factory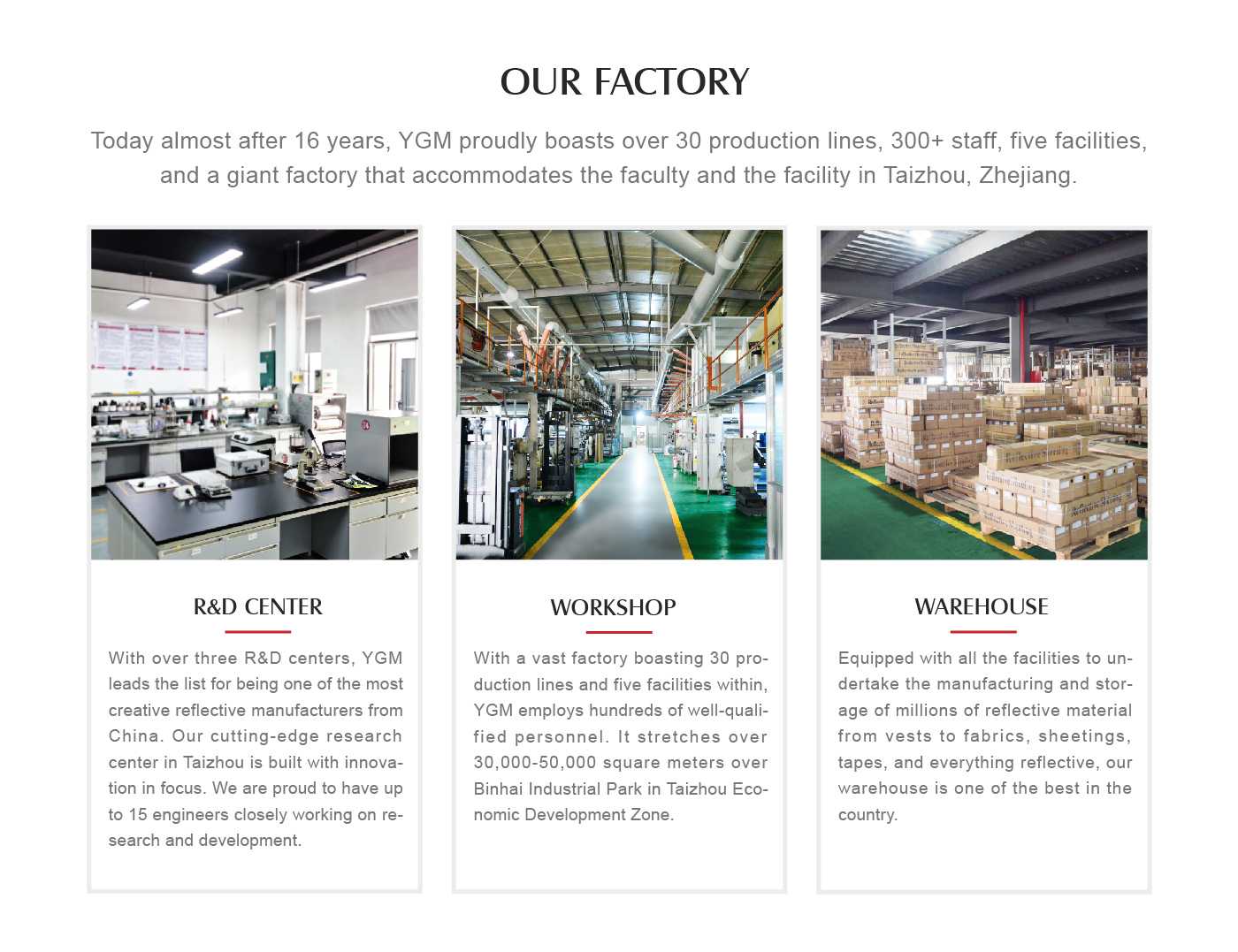 Certifications
Video
YGM VIDEO Your Trustworthy One-Stop Shop To All-Things Reflective
Reflective Textile Category
Silver Reflective Textile

Color: Silver
Reflectivity: 400cd/lx/m²
Backing fabric: 96% polyester+4% spandex

Rainbow Reflective Textile

Fabric Color: Black, white, red, grey, blue, etc
Reflective Color: Aurora rainbow
Backing Fabric: 100% polyester, T/C, or spandex fabric, etc

Holographic Reflective Textile

Fabric Color: Black, white, red, grey, blue, etc
Reflective Color: Segmented rainbow
Backing Fabric: 100% polyester, T/C, or spandex fabric,etc

Iridescent Reflective Textile

Fabric Color: Black, white, red, grey, blue, etc
Reflective Color: Blue purple-light rainbow
Backing Fabric: 100% polyester, T/C, or spandex fabric, etc

Silver Reflective Print Textile

Reflective Color: Silver
Backing Fabric: 100% polyester, 100% nylon, spandex fabric, etc
Customizability: Accept pattern customization

Rainbow Reflective Print Textile

Reflective Color: Rainbow
Backing Fabric: 100% polyester, 100% nylon, spandex fabric, etc
Customizability: Accept pattern customization

Bronzed Reflective Textile

Backing Fabric: 100% polyester, T/C, spandex fabric, etc
Customizability: Accept color and pattern customization

Gradient Reflective Textile

Fabric Color: Black, yellow, red, green, pink, etc
Backing Fabric: 100% polyester or spandex fabric, etc

Reflective Textile:
The Complete Buying Guide
What Is Reflective Fabric?
Reflective fabrics can reflect back the light falling on them, making it easier for people to see you during the day or at night. The reflection occurs due to the backing fabric coated with glass beads that reflect the light. Reflective materials are used in many clothing items such as uniforms and protective clothes. The reflective fabric can be seen by drivers at night, which ensures the safety of both drivers and pedestrians. In addition to being reflective, the fabric also has other benefits like excellent abrasion resistance, anti-ageing, and washability.
What Is Reflective Fabric Or Textile Used For?
Reflective textile is used for various purposes such as producing garments, uniforms, coveralls, sportswear, and protective clothing. The fabric contains reflective materials, which make them glow once the light hits the surface.
Lately, the reflective material has also become a significant part of the fashion industry due to its adaptive properties like softness, waterproofness, etc. Many riding gear manufacturers use reflective textiles to make riding jackets, pants, gloves, etc., which glow in the night and prevent accidents
What Is A Reflective Textile Made Of?
The process of producing a reflective fabric is entirely different. It is made with specialised processing techniques such as coatings, composites, and, most importantly, hot pressing. Materials such as polyester or spandex are used to make the base for a reflective surface. It is followed by the application of adhesive to keep reflective material firmly adhered to the fabric.
Afterwards, an aluminium reflector containing micro glass beads with specific yet high refractive indices adheres to the fabric. The glass beads are the one that reflects light to the source to illuminate the person wearing reflective material.
What Reflective Fabric Reflects Most Light?
YGM produces various kinds of reflective fabric. All of them have enough reflectivity to make you visible from a minimum distance of 150 meters. However, it's the standard visibility level that YGM can offer, but the maximum range is way more than that.
The silver shade reflective fabric is the most reflective fabric having a reflectivity of almost 400cd/lx/m². The rules of reflectivity also say that light-coloured clothes have a more reflective quotient than dark-coloured material. So, if you are looking for a material that can offer you an extended range of visibility and other features like ENISO 20471 certification with water, heat, wind, and UV protection, choose the solid silver reflective fabric.
Is Reflective Fabric Fireproof?
Various types of reflective fabric are available in the industry that can protect you against the sun, water, wind, and other climatic wear and tear. YGM produces all types of reflective fabric, but none of them is fireproof. But, YGM can provide you with the industry's best waterproof reflective material made with water-resistant PU coating. This PU coating can be added one or more times according to your performance needs.
Is Reflective Fabric Customizable? What Are The Customization Options Available?
Reflective fabrics come in various unique patterns which can match your style. At YGM, we offer customised products for you that are not limited to just colours. Those who want something subtle and simple can choose from different shades like black, grey or white.
But if you are more into the trendy side, YGM offers customers the chance to get products of their choice. You can send us your unique and fashionable designs, which we can print for you. Other than that, we also offer printed reflective fabrics as well which you can customise or design according to your choice.
What Are The Various Fabric Colours Available?
There is no limit to the colour availability in reflective fabric because you can not compromise with the styles in the modern day. Reflective textile is available in all sorts of colours, and you can even order a rainbow pattern for yourself.
But, if you are more into pastel shades or simple colours, then you can go for many other colour options. The shades of grey, white and black are obvious; other than that, you get the option to choose from colours like green, red, purple, brown, orange, etc. The obtainability of a wide variety of colours makes it possible to produce patterned reflective fabrics as well, which you can design according to what you love.
What Are The Features Of Reflective Fabric?
Lightweight: YGM produces an ultra light-reflective fabric that anyone can wear all day without feeling any bulky interference. The material won't let you feel any heat inside as it keeps the wearer cool because of its breathability.
Water resistance: Reflective textiles are often mistaken to be less versatile in terms of wear and tear, but that's not the case in reality. The material can be added with a water-resistant PU coating which makes it withstand all kinds of weather situations.
UV Protection: Reflective fabric has unique heat reflectors that prevent heat absorption as they have an aluminium coating upon the backing textile. It makes UV protection possible and protects your skin against the harmful effects of UV rays.
Reflectivity

: The reflectivity power of the fabric is different for each series. If you want the most reflective material, then the silver shade is the best choice. Silver shade has the highest reflectivity, which is noted around 400cd/lx/m² that will provide excellent visibility to wearers.
What Are The Various Backing Fabrics Used In Reflective Textile?
Reflective textile is now used in various industries, which raises the need for material to be dynamic so that the production of different products is easy. Keeping this in mind, YGM has introduced a wide range of reflective materials with different backing fabrics to make it more versatile. YGM uses 100% Polyester as the ideal and standard backing fabric, making the reflective textile softer. Other backing fabrics are Nylon, Tetoron Cotton (T/C) and Spandex which are used based on the types of products being developed.
These backing clothes have different advantages like Polyester and Nylon are best to produce sportswear, jackets, hats, etc. On the other hand, Spandex and Polyester are best used to make silver reflective textiles. Tetoron cotton is used as an add-on material to create different colour designs like the rainbow, holographic, iridescent, etc.
Does YGM Manufactures Reflective Textiles? Can I Order a Reflective Textile From YGM?
If you are looking to purchase the best reflective textiles, then you should check out YGM for sure. YGM has dedicated sixteen long years to the development and supply of reflective tapes, hats, bags, jackets and security textiles which makes it a behemoth of reflective material producers. YGM is the prime pick of many clients from diverse industries because their primary concern is security which neither they nor YGM wants to compromise.
If you wish, you can order reflective textile from YGM's official website and request a quotation for a particular product you might be interested in. YGM offers customization options that you can send along with your demand, and the rest will be taken care of.
How Long Does YGM Take To Produce & Deliver My Order Of Reflective Textile?
YGM is very quick in terms of lead time and capable of completing thousands of deliveries due to its latest technology production lines. Most of the generic orders reach the doors of customers within 25 to 30 days. But, if you place a customised order with YGM, then it can take a little longer as it requires additional lead time to produce customised products.
Still, the additional period won't be very long, and the details regarding it will be provided to you as soon as you place your orders. Moreover, YGM provides real-time updates regarding your order status and informs you about any delays as YGM firmly believes in customer satisfaction.
What Is The Reflectivity Of The Reflective Textile?
The reflectivity of reflective material depends on the shade of textile you are choosing and the quality of backing cloth used to make it. YGM uses high-quality backing cloth, micro glass beads and adhesive to prepare all of its reflective cloth range to provide clients with the best quality products.
In most cases, the darker the colour is, the lower is the reflectivity level. This is why the silver shade has peak reflectivity levels, which can be observed at around 400cd/lx/m². But, this doesn't mean that other reflective materials are inferior; using them is still safer than traditional colours like fluorescent orange, yellow etc. The majority of the reflective textile produced at YGM provides you visibility up to 250 meters and above, which is huge compared to 50 m of regular clothes.
What Are The Various Certifications Of These Textiles?
Certification ensures the guarantee of the product and it instils confidence in the clients. YGM has many clients who have faith in the products because every product is produced under certified criteria for best quality. Moreover, YGM holds many certifications as it has been present in the field since 2005 and provides excellent customer services. YGM holds the Oeko-Tex Standard 100 and TÜV Rheinland ENISO 20471 for the production of silver reflective textile.
Oeko-Tex Standard approves the production of human-ecological safety of textiles and leather articles from different stages of production. Additionally, the ENISO 20471 certifies requirements of high visibility clothing, methods of testing and overall approval of product quality.
What Are Your Quality Control Processes?
YGM believes in providing clients with the best quality products with identical elements that they saw on the website. To ensure all these things, the products undergo various types of quality checks to ensure the quality levels of the product.
Reflectivity – To ensure the exact reflectivity quotient of the products, YGM conducts tests using props like inverse reflection coefficient measuring instruments.
Washing – The washing performance of each fabric is tested with the help of washing machines. As the reflectivity depends on the types of fabric you choose, the same way washing also depends on the types of material. Also, the washing standard of reflective fabric is ISO 6330, which makes 40℃ to 60℃ or 90℃ ideal temperatures to wash the reflective textile.
Glass Beads – YGM assesses the quality of glass beads to ensure that there isn't any poking or misaligned beads left in the material.
Surface Excellence – It is a quality check against any flaw, blemish, scratches, black spots, or other defects in the product.
Feature Testing

– Reflective fabrics come with different features like UV rays protection, water, sun, heat, wind protection. YGM ensures optimal performance tests of each feature before sending it to you.
What's The Delivery Window For Samples?
YGM offers many perks to its customers, and one such benefit is providing samples of the product you are interested in. It is evident that before placing a big order, any client would like to assess the quality of products, and YGM is confident enough to send them to them for free. The cost of samples is covered, and only freight charges are needed to be paid by the client, which further gets deducted when you place the final order. The delivery window of samples is from 3-5 days for standard and 5-7 days for customised products.
This is an excellent initiative by YGM as it provides a unique customer experience to all the clients, and they feel more confident instead of doubtful.