Reflective Material A To Z: Types, How It's Made, & Uses
Complete Breakdown Of Reflective Fabric
With the quality of life getting advanced by the hour, our clothes to vehicles, lifestyle, and even perspective is changing in the nick of time. In today's age, people are actively looking for safety and security in everything they invest whether it's a pen, dress, or bicycle.
If you're a business fronting reflective fabric, this article is tailor made to help you find out everything about reflective fabric including its meaning, who needs it, what to look for when buying reflective fabric wholesale, and several other subtopics to familiarize you with the subject.
Read on.
What's The Meaning Of Reflective Material?
Reflective material refers to fabric that's built to reflect sunlight, UV light, or any light that falls on it back to the eye of the observer. Such material is built for increasing the visibility of the wearer and is typically used on safety wear clothing, athletic or casual wear.
There are many things to keep in mind when you're using reflective fabric such as its quality. First off, reflective quality of fabrics is valued using the end product. But seeing is not always believing and you might need seals and hallmarks of governing bodies to actually trust the product you receive from China reflective material suppliers.
Reflective Fabric Standards And Certifications
When it comes to certifications, seals and standards, there is a sense of relief once you know the product you're using is certified by the highest authorities. In reflective fabric too, standards and certifications are of supreme importance to buyers, users and sellers. So, if you're thinking of investing in such material, it's important to know the norms first.
Here's all you need:
EN ISO 20471: This is an international requirement that regulates high-visibility clothing, especially when it comes to color and retroreflectivity as well as placement of the reflective fabric on the main clothing (minimum and maximum surface area), especially when working in high-risk areas
ANSI 107: This American National Standard Institute certification classifies clothing with high visibility. You'll notice standards such as Performance Class 1, 2, or 3, based on the amount of visible background and reflective fabric
ISO6330: This is a washing standard that specifies domestic washing standard preferred at 40℃, 60℃, or 90℃
ISO 15797: This refers to the washing standard for industrial applications, clocked at around 75℃
ISO 3175: This is an instruction for dry cleaning the reflective material as it mustn't undergo other washing
Oeko-Tex Standard 100: A uniform certification that tests for harmful substances in textile products based on its processing steps, other Oeko-Standards are  STep, Detox to Zero, Eco Passport, and so on
UL: Abbreviated from 'Underwriter Laboratories' this is a third-party authority for testing and setting safety standards for products since 1894
BS EN 1150: This is the standard for high-visibility clothing wherein a combination of materials is used to make sure the wearer has high-visibility under all weather and climatic conditions. Here, fluorescent material is added to the clothing for ensuring visibility during the day and reflective tape for visibility during the night
CCC: Abbreviated from China Compulsory Certificate, CCC refers to a mandatory safety seal for imported items that are used in reflective material China markets
How Is Reflective Material Different From Reflective Sheeting?
The core differences between reflective material and reflective sheeting has to do with its method of application and manufacturing process. When it comes to the way both these materials are applied, you will notice many differences too. Reflecting material is generally attached to safety clothing by hot pressing or sewing. But reflective sheeting is applied using self-adhesive, typically seen in safety warnings signs associated with road traffic, advertisements, license plates, and industrial signs. While reflective sheeting is made when PET film coloring undergoes embedding of glass beads, followed by aluminum plating and gluing, reflective material works a little differently. Learn all about the way reflective material is made in the next subsection. If you're thinking of reflective tape, it's made from a combination of glass bead, pigment and flexible polymer.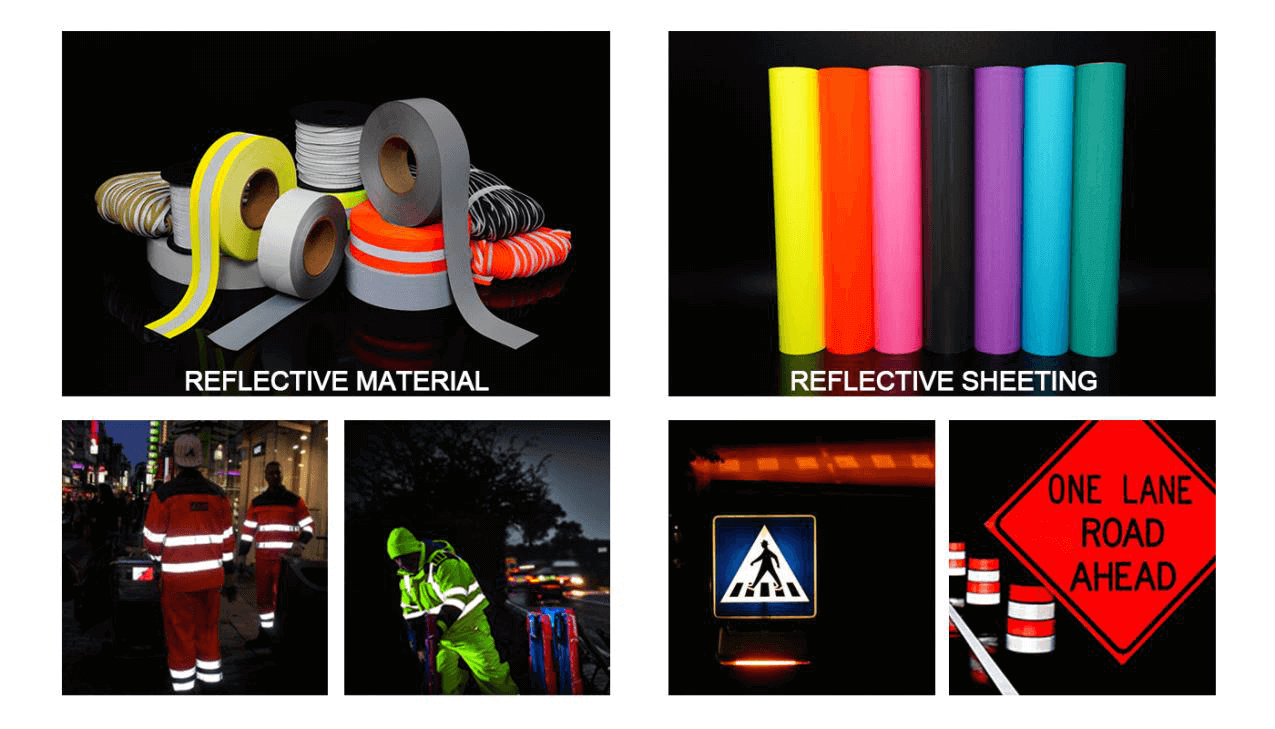 Reflective fabric is basically constructed from glass beads that possess a high refractive index so that the material can reflect the source of light at wider-than-normal angles once it's refined via multiple processes.
Before we jump into how it's made, let's take a look at the composition of the backing fabric seen in most reflective materials.
Now, it's time to understand the step-by-step process of how reflective fabric is made.
The following picture will help you grasp head and tails about it.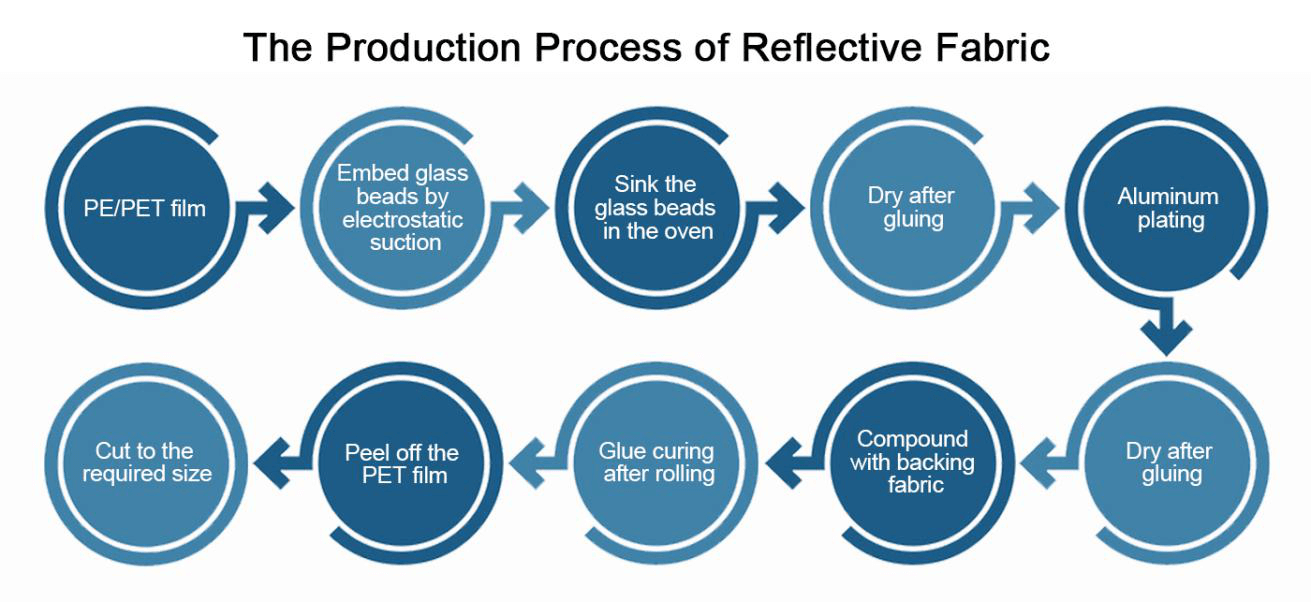 In case you're a bit confused, PE/PET film is embedded with glass beads using the technique called electrostatic suction. This is where powerful electric charge is used to charge glass beads so that it is absorbed on the fabric. Bead planting refers to evenly distributing the same on the fabric.
The glass beads are sunk inside the oven and dried once adhesive is added. It undergoes aluminum plating before dried again with adhesive and the compound is added with backing fabric. The end product is rolled and the glue is cured before the PET film is peeled off. All that's left to do is cut the reflective material according to your required sizes.
When it comes to manufacturing of 'reflective fabric' exclusively, the first step is bead coating. This is where the glass beads are mixed with adhesives to create a paste-form. It's then coated on the fabric based on multi-channel or one-liquid techniques.
Transfer techniques include pretreatment of transfer substrate, followed by bead composition, heat processing and reflective layer combination. Ultimately, the fabric is coated or printed according to prerequisites.
When it comes to reflective material be knife-cut or laser-cut into graphics or logos and hot press onto the T-shirts, caps, bags etcetera, hot melt back coating is used.
How Does Reflective Material Work?
The way reflective fabric or material works isn't rocket science. The following picture will help you understand the reflective principle of such material (for the exposed type) so that you can grasp how it works.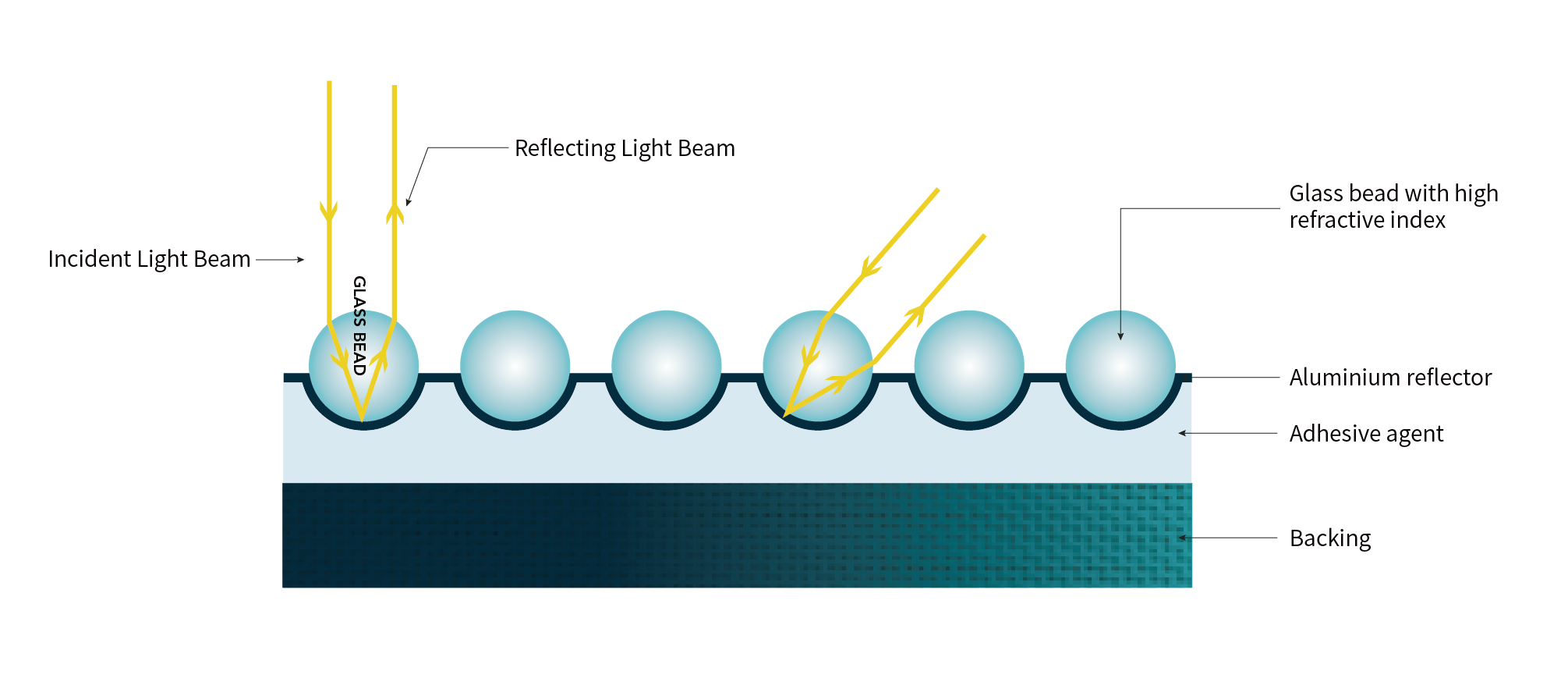 Light beams that fall on the material pass via the exterior surface of the glass beads and get reflected from the mirrored surface of the beads. Put simply, the reflective tape lights up when the source of light falls on the glass beads that are present in the reflective fabric.
Such a material doesn't create light on its own, instead, it relies on artificial light, generally seen at night to add luminescence to the wearer.
Here's a less-technical and more-visual representation of how reflectivity works.
If you're finding it hard to understand, that's because the foundation of reflectivity hasn't been understood yet.
What you need to get around is reflectance or reflectivity. The truth is, it refers to the reflective brightness. Reflective coefficient is a term for reflectance, which translates to the amount of light wave that's reflected with regard to 'impedance continuity' in the medium where it's transmitted.
When translated into technical terms, fluorescent yellow and red fabric has the reflective intensity of 700 cpl, unlike the 500 cpl of silver-gray type of reflective material products. Hence, reflective fabric is capable of visibility regardless of day, night or low visibility conditions.
Another core reason how reflective material works owes it to the wide-angle principle. This is when the incident light is at a large angle to the reflective surface, and reflectivity isn't nullified. Take another look at the graphics above to understand it well.
Types of Reflective Material
There are endless varieties of reflective material in the market today and explaining all the nuances of each product in this article might take ages. That's why our team of experts have put together the following list of reflective material types so that you can understand the top types in a glance.
High Luster Reflective Fabricis silver color and typically used in high visibility work-related wear and comes with a reflective coefficient of more than 400 cpl. It's made from 100% polyester and sometimes a mix of both cotton and polyester
High Reflective Fabric is typically seen with gray front and derives from polyester or cotton +polyester. Here, the front is made with glass bead technology and back with polyester or cotton +polyester
Ordinary Reflective Fabricrefers to fabric with basic reflectance that often comes furnished with Oeko-Tex Standard 100 certification for use in moderately lit areas, conditions or climates
Flame Retardant Reflective Fabric: This is a flame-resistant clothingthat often comes with NFPA 2112 to protect wearers against flame and fire related accidents. It's backed by Aramid, or cotton
Reflective Heat Transfer Vinyl:Also called reflective heat transfer film, it's the go-to fabric for construction workers, bicyclists, runners and so on. Here, the reflective material is applied via heat transfer and is made with backing composition of PES or TPU fabric
Elastic Reflective Fabric: Reflective material that's capable of stretching from one or both sides come under this category and are often found in various colors from white to red, grey and silver. Such a fabric is backed by spandex alone
Perforated Reflective Fabric: Ideally made for better breathability, perforations on the reflective material aids in superior ventilation. It's ideal for preventing overheating and maintaining a cool body temperature in hot conditions
Segmented Reflective Heat Transfer Vinyl: Another criteria of breathability, washability, and durability, such a fabric can be cut into different shapes of segments
PVC Reflective Tape:A kind of reflective tape used for protecting workers in bad light conditions, it comes with high-gloss and in different colors such as white, red, neon green, green, dark green, blue and orange
Woven/Oxford Reflective Tape: This is a kind of tape where the top and bottom of the tape is covered in red, yellow or green, but the middle portion is composed of silver-gray reflective tape
Reflective Thread: Reflective yarn that's used for vehicle seats, upholstery or casual wear clothing is a fashion statement too, often used in straight stitching, embroidery or serging by the machine
Reflective Piping: Used for improving the visibility quotient of garments, reflective piping trim is useful for designing unique bags and clothes with at least 700 ft of sight distance
Uses And Benefits Of Reflective Material
We've learned all about the meaning of reflective fabric, its standards, certifications, how it works and constructed today besides its notable types. However, the most important section worth your while is just coming.
Get started on the complete list of all the applications and advantages of reflective material so that you can put it to use in your own industry or niche.
Daytime visibilityis the notable use of reflective material because the glass beads on the fabric helps to make the wearer visible to the onlooker, no matter how strong or weak sun is shining
Nighttime visibilityis considered uber-important. For example, 75% of all pedestrian accidents happen at dawn, dusk or night due to lack of visibility
Traffic safetyis a stark benefit and use of reflective fabric as it helps to see the wearer visible to the onlooker on the road regardless of the snow or fog
Distinguish first responders: During emergencies that happen at day or night, first responders are easily visible to people and vehicles when they wear clothes composed of reflective material. They are easy-to-recognize in dire conditions when donned with reflective fabric
Hot conditions: It's the best time to wear reflective fabric because the principle of reflecting sunlight and UV light leads to shade for the wearer. Such a material enforces insulation of body heat to keep the wearer warm
Flame retardancy: This is another added benefit of reflective fabric that's processed specifically for the same. The same is fire retardant reflective tape is often used as a fire-suit or life-saver clothing too
Water repellant: Besides being soft, comfortable and breathable, most reflective fabric are also resistant to water and hence the long-term damage is also minimized in such clothing
Wind resistant: Wearing clothing made of reflective fabric offers a layer of insulation to the wearer, especially in windy areas. Hence, it's sometimes referred to as windproof apparel
Fashion: From Activewear to Sportswear, there's a high demand for reflective fabric because it enhances the appearance and visibility of the wearer for entertainment as well as functionality. Rainbow reflective clothing is a rising trend to focus on in case you're smitten already
Low light areas: For workers engaged in mines, tunnels, and other sparse-light conditions, reflective fabric can help in spelling the difference between safety and disaster
Solar reflectance: Materials made with low solar reflectance affect the surface temperature of the air as low solar reflecting materials heat up the environment and vice-versa
Cropping: There are many uses of reflective material in agriculture as the high reflectance also helps to prevent plant diseases such as those caused by winged aphids, thrips and similar pests
Grow room: Reflective material for indoor planting can also improve reflectance coefficient of the room to trap more light and aim it towards plants that need it
Advertising: When it comes to highlighting the brand logo, especially on advertisement banners, reflective fabric suppliers can help you design clothes that draw the attention of the observer, regardless of the hour
Lasts longer: Being resistant to wind, water and air, reflective material and fabric often end up performing its best for a long time unlike normal fabric. You mighthave already noticed safety wear clothing often get damaged easily, but not the reflective tape on it
Vehicles: Whether you just learned driving, are going for a long-drive, or are parking your caravan by the side of the road, reflective material can aid in improving the visibility of your automobile just like it would do for you
Pattern reflectivity: From floral to any printed pattern of choice, today you can add reflective material to trace any style of pattern and make unique reflective fabric China. Thinking of fashion-based applications? You got it right!
Warning signs: Used in defining traffic markers like sharp turns, frequent accidents, construction safety, etcetera, reflective material can help
Body sticker: When it comes to car decals, innovative designs were always a boom. But equally viral are body stickers made of reflective material that highlight different shapes and prints on the body of vehicles
Exercise on open roads: For joggers, marathoners, cyclists and others who do their daily-sweating on the open road, safety is ascertained with the use of clothing made from reflective material factory. Wearing reflective material at the moving parts of the body will help appear different from inanimate objects to drivers at night
How To Find A Reliable Reflective Material Manufacturer
Before you jump ahead and place a MOQ with a random local reflective material supplier, it's important keep a few things in mind. Take a look at the following checklist to find the best China Reflective Material manufacturer right away.
Check the total operating years of the reflective fabric supplierto assess their experience and familiarity with the industry
Company scale is the total size of the reflective fabric factoryand the production capacity. For example, most big-sized China factories for reflective fabric can produce 100,000 pieces without hassles
Professionalism is the culmination of how the manufacturer interacts with you, the familiarity with the subject and negotiations held between both of you
Look for safety standards, certifications and seals or hallmarks you can review for the products you want to order beforehand
Shortlist at least three suppliers for for reflective fabric and request samples from all three
Make sure you assess the samples before placing an order with one of the shortlisted suppliers
Quality Control measures refer to the way your choice of supplier produces the material
Look up the after-sales services offered to you so that you aren't at a loss in case the products delivered to you are damaged in any form
Finding a good manufacturer for reflective fabric is important if you want the end-product to actually have reflectance. We listed out the meaning of reflective fabric so that you can order this product without getting fooled or cheated by wholesalers or local sellers.
If you're looking for a wholesale supplier of China reflective fabric, it's important to know how it's constructed, the basic principles, what it's made of and all about it in detail to have a clear conversation with the supplier.
Instead of running into costly errors, choose a manufacturer like YGM. We have over 16 years of experience in the reflective industry. The best thing is we typically offer up to 400% cheaper rates than your local distributor due to the lack of middlemen.
You can browse from our long list of products made from reflective material such as soft material, FR tape, ordinary reflective series, heat transfer vinyl, and decorative heat transfer vinyl. Send an inquiry to get custom quotes and specifications from an expert right away by contacting us.