Reflective fabric tape
Manufacturer Supplier
Your Trustworthy Reflective fabric tape
Manufacturer Supplier
Reflective fabric tape,which is also called reflective tape for clothing,is trending for all the right reasons. It has always been popular as a safety essential. Cyclists, joggers, pedestrians, and others would be a lot safer out there in the dark with safety clothing featuring reflective tape fabric. Apart from safety, this tape is now used to glamourize apparel, making them all the more fashionable and trendy.
This is also why many apparel manufacturers are looking to incorporate reflective fabric stripes when designing safety outfits for people across all age groups and genders. If you're a clothing manufacturer, you would, of course, require bulk quantities of reflective fabric stripes. Wholesale is no doubt a cheaper alternative, but quality matters just as much too. And YGM is a brand that offers you both – good quality fabric tape at a reasonable price.
Keeping in mind the fashion perspective, reflective tapes come in a range of colors – silver, black, green, red, fluorescent, orange, and many more shades. But from the safety perspective, merely selecting a tape based on color isn't enough. You have to pick one which fulfills all essential criteria such as reflectivity, durability, quality, washability, luminescence, as well as the tape's flame retardancy levels.
Reflective Fabric Tape Feature
Why choose YGM Reflective Fabric Tape ?
There's no dearth of reflective fabric stripes types – there's something available for everything! All you need to do is understand your requirements and thoroughly research the tape types that would fit in perfectly. We will now be introducing you to a whole range of varieties that you can pick from. We have also listed out the characteristics and unique qualities of each of our products so that you can make an informed decision as you buy them:
1. Silver reflective fabric tape
The silver reflective tape offers a high reflectivity range spanning from 400 to 500 cd/lx/m². This makes it an excellent fit for safety clothing, among other uses. You can easily customize this tape as per your requirements - you can cut it with any cutting equipment and then sew or affix it on any surface you wish to with great ease. Thanks to these flexible features, this silver-colored reflective fabric stripes is well suited for clothing like jackets, overalls, shorts, and even pants.
You get two tape types, each made with different fabrics. Type one is made of 100% polyester material, and type two is made of the TC, which stands for Tetron Cotton. The latter fusion of two fabrics - polyester and cotton. This product comes with the Oeko-Tex Standard 100, ANSI107, and ENISO20471 certifications.
2. High reflective fabric tape

Another super-customizable product from YGM, this reflective tape fabric can be easily molded to meet your requirements. It is a tough, durable tape with industry-standard Oeko-Tex Standard 100, ANSI107, and ENISO20471 certifications. With a reflectivity ranging between 260 to 400 cd/lx/m², this reflective tape has a lower reflectivity rate as compared to the silver-colored tape. However, it offers great visibility.
An additional advantage of this reflective fabric stripes is that it comes with standard washable safety protocols. This further makes it an excellent choice for usage on clothing. Like the silver tape, this grey tape features a TC or 100% polyester backing fabric.
3. Ordinary reflective fabric tape
If you don't require high-end, expensive reflective fabric tape, you can always settle for this ordinary reflective tape, perfect for using on clothing. It offers extremely low reflectivity - between 10 to 30 cd/lx/m² - but this reflectivity quotient is well-suited for general use. You may not be able to use this for safety clothing, but otherwise, it works perfectly well for fashion purposes.
Considering that it can be used on clothing, this reflective tape is customizable and can be created in various dimensions, color, design, and textures. This tape comes with only one drawback - it does not have any universal certifications or specific washing requirements.
Offering an extremely high reflectivity quotient, this tape is the best choice for safety clothing. It offers reflectivity spanning from 300 to 400cd/lx/m². We can easily customize the HTV fabric as required to meet your needs. This reflective tape comes with three industrial standard certifications - ANSI107, Oeko-Tex Standard 100, and EN ISO20471.
The best part about this reflective tape fabric is that it comes in a range of colors, making it an excellent pick for different types of apparel. It also comes in shades like silver, grey, and a mix of yellow, red, and silver. This is indeed a peculiar fabric that offers multiple uses.
The backing fabric for Reflective HTV is Polyester (PES) or Thermoplastic Polyurethane (TPU). The PES-based tape is a good choice for cotton as well as woven fabrics. On the other hand, the TPU based tape works well with PU leather and PVC materials. You can easily give this tape shape with cutting equipment like scissors, knives, or laser cutting machines to create different designs. You can use these for various applications, such as signboards or logos on clothes. You can also use it to add a glam quotient to add-ons like shoes, hats, and bags.
5. Colors High Reflective Fabric Tape Iron On Tape
When it comes to the colored variety of high visibility reflective HTV, most manufacturers offer two choices - firstly, you have the high reflective colorful tape, with a reflectivity range of 60 to 80cd/lx/m². Secondly, you have the ordinary colorful variety, which renders a reflectivity of 10 to 20cd/lx/m².
Both types of products are of excellent quality and come with the Oeko-Tex Standard 100, UL, EN ISO 20471, and ANSI 107. The customizable tape can be cut into different shapes and sizes with the help of a laser or a knife. You can also easily affix it on surfaces too. All you need to do is take care when you wash the apparel - it has to be cleaned with lower temperature settings.
Available in a range of shades, buyers are often left spoilt for choice when it comes to this particular reflective tape fabric. It is made of TPU or PES, just like the reflective HTV tape.

Looking to glamourize outfits and make them look fashionable and funky? Well, this tape will perfectly suit your requirements! With a luminosity ranging from 40 to 60cd/lx/m², this rainbow colored reflective fabric tape is well-suited to create logos. The washing performance, too, is up-to-the-mark and certified with ISO 15797 and ISO 6330. It also has the ISO 4001 and UL certifications.
The rainbow hue of this fabric is what makes it an interesting pick. The backing fabrics are thermoplastic polyurethane and polyester, and this reflective fabric stripe works just as well as HTV films. It is best suited for cotton, PU, PVC, polyester cotton, and nylon, as well.
7. Segmented Reflective Fabric Tape Iron On
This reflective fabric tape comes with a segmented pattern and offers a reflectivity rate of 300cd/lx/m². It comes in silver and grey, as well as in a mix of yellow-silver-yellow and red-silver-red. Interested buyers are free to customize the shape, size, texture, and design of the tape as per their requirements.
With certifications like the UL, Oeko-Tex Standard 100, and Intertek hallmarks available, this tape is durable and an excellent pick for tough use. Washing instructions state that you can gently tumble dry the fabric and use a cool iron over it. Like the other tapes, the backing fabric for this one is either PES or TPU and designed for hot weather usage.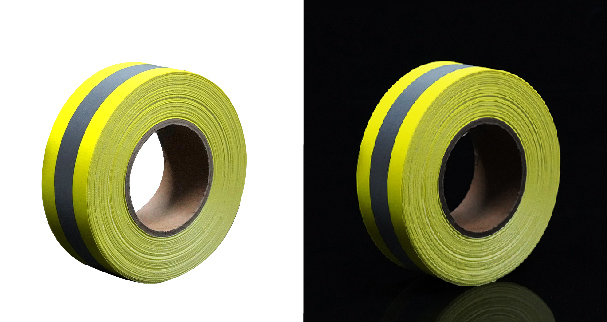 8. Flame Retardant Reflective Tape

There are three flame retardant tapes available. The first is a yellow-silver-yellow and red-silver-red and offers a reflectivity of 350 to 400 cd/lx/m². The second type is fluorescent red or fluorescent yellow and has a reflectivity spanning from 20 to 80cd/lx/m². Lastly, you have the silver-colored tape, which has a reflectivity range of 400 to 500 cd/lx/m². Made of 100% aramid or cotton backing fabrics with ideal flame retardancy and heat resistance, you are free to customize each of these tapes to meet your requirements.
Coming from YGM, these flame retardant tapes are tried and tested under stringent testing standards. They offer seven industry-standard certifications - EN ISO 20471, Oeko-Tex Standard 100, ANSI 107, UL, EN 469, NFPA 2112, and EN 533. We offer this tape in a range of colors, making this fire-resistant tape for various surfaces.
9. Elastic Reflective Tape
Looking for a flexible reflective fabric tape? Well, the elastic reflective tape is just what you require! Classified based on color, you have two different types of tapes, each of which offers a different reflective quotient. The first one comes in the silver color and has reflectivity ranging from 400 to 500 cd/lx/m². The other type comes in a range of colors, offering reflectivity spanning from 20 to 80 cd/lx/m².
These tapes come in two variants - single-sided and double-sided - and can be further customized for size and color as required. It also comes with industry-standard certifications such as ENISO20471, Oeko-Tex Standard 100 and ANSI107.
In this category, we offer silver and multi-colored reflective tape, giving you the freedom to pick from a range of options. This elastic reflective fabric stripes features backing fabric and is made of 85% polyester and 15% spandex.
An excellent choice for safety workwear, this sew-on reflective tape offers all the flexibility you require while designing clothing. This tape is a woven tape where you have to sew the reflective surface on your choice of clothing. It comes in three different fluorescent shades of yellow, green, and orange.
This tape offers an impressive reflectivity of 250 cd/lx/m². The size is completely customizable for both the variants - the woven tape and the reflective tape. The best part of this tape is that it doesn't have any special washing requirements, further increasing its suitability for safety workwear. It also features the SATRA approvals like EN 469 and EN 20471.
11. Reflective Webbing Tape

With a reflectivity quotient of 250 cd/lx/m², this tape comes in two varieties - woven tape and reflective vinyl. It comes in a range of fluorescent colors such as yellow, green, and orange. This tape is extremely easy to use, and all you need to do is suffix it by sewing it on the fabric or via HTV.
You can personalize the size and texture of this reflective fabric tape to suit your requirements. This tape comes with the Oeko-Tex Standard 100 certification and no specific washing instructions.
12. Oxford Reflective Tape
The oxford reflective tape comes with the Oeko-Tex Standard 100, EN 469, and EN 20471 approvals and offers a reflectivity of more than 250 cd/lx/m². This tape is available in standard fluorescent colors, and you can customize your order as required, and we will cater to it. This tape does not have any specific requirements - you can cut it as needed and use a hot press iron to affix it on clothing. It also does not have any particular washing requirements.
13. Perforated Reflective Tape
If you are looking for a textured reflective fabric tape, perforated reflective tape is the best option for you. You are free to pick your aperture, and we will personalize the tape to meet your requirements. Despite its textured pattern, the tape does not compromise on reflectivity and reflects at 340 cd/lx/m².
Available in different colors, this perforated reflective tape is highly flame retardant with superb elasticity. This makes the tape well-suited for safety apparel. Additionally, the tape is lightweight and breathable and offers exceptional protection against skin burns in case of accidents.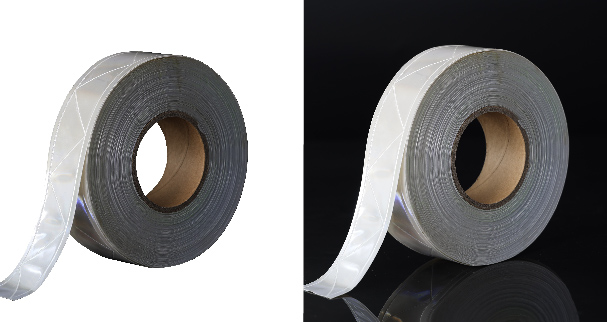 14. PVC Reflective Tape

This tape is available in several colors and is made of a water-and-dust proof reflective material. Moreover, this reflective fabric tape renders a high reflectivity spanning from 100 to 250 cd/lx/m², along with its durability. This tape doesn't come with any specific certifications, but the PVC reflective fabric stripes usually come with the EN 20417 and EN 13358 certifications.
Fully customizable, you can personalize the tape as per your preferred size and color. The pattern, too, is customizable. This tape is the perfect choice for stitching over outdoor and safety workwear and accessories. This durable tape is weather resistant and can sustain extreme climate and frequent washing.
15. Reflective Thread
You can simply opt for the reflective thread if you don't want the thick reflective tape fabric. You can use this reflective tape to sew safety as well as fashion wear. It offers a reflective quotient of more than 330 cd/lx/m², and it comes with two essential quality certifications - Oeko Tex Standard 100 and UL.
The reflective thread comes in two colors (silver and gray), and it adds reflectivity to a wide range of clothing. It features the backing fabric of the (PET) film. Considering your requirements, you can choose from the two alternatives (one or two-sided) of reflective thread from our brand.
16. Reflective Piping
This is another excellent alternative for those who are looking for options other than the standard reflective tape. With a reflectivity of 280 cd/lx/m². This product meets the industry standards and features the Oeko Tex Standard 100 certification. You can easily order this piping from us in a range of colors.
This tape is made with a backing fabric of TC and 100% polyester. It is also often made of a mix fabric ( 15% spandex and 85% polyester), and is easily customizable. You can easily sew this product on a range of clothing - both fashion and safety wear.
17. Luminous Reflective Fabric Tape
The luminous reflective tape offers up to 8000 Mcd/m², making it one of the best choices for safety wear. Thanks to the mirror-like luminescence on fabrics, it is excellent for illuminating clothing. This tape comes with a variety of industry standard certifications such as Oeko Tex Standard and UL. Available in different shades, you have the flexibility to choose a color of your preference as required. The tape is also customizable, so you can let us know your requirements when you place your order.
Reflective Fabric Tape:
The Complete Buying Guide
We have listed down some of the most commonly asked questions concerning reflective fabric tape. Let's have a look at these:
What exactly is the concept of reflective fabric tape?
Reflective fabric tapes are based on the concept of retroreflection. They feature tiny, built-in glass beads, via which light reflects. This light, when it bounces off the glass beads, is collected by the reflective tape. You can better understand this slightly complex concept with the help of the picture of the moving vehicle below.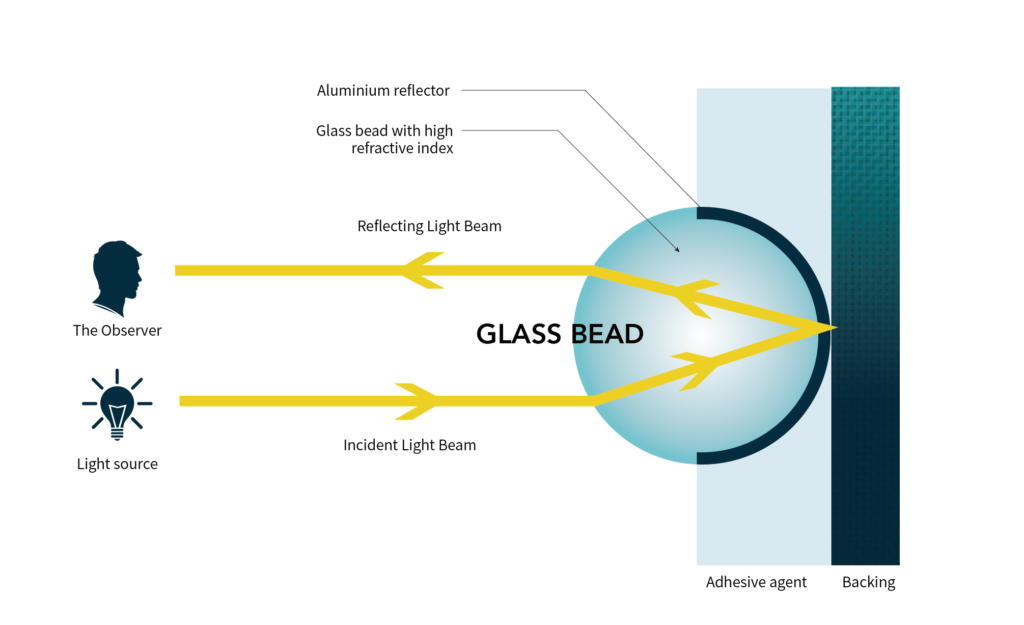 What are the reflective tape products offered by YGM?
At YGM, we offer a wide range of reflective fabric tapes for clothing and other applications. Some of the most popular and in-demand reflective fabric stripes are Rainbow reflective HTV tape, Reflective HTV tape, Flame retardant reflective tape, and Silver or highly reflective tape.
Along with these varieties, you also have a couple of other options such as the PVC reflective tape, Elastic reflective tape, Oxford reflective tape, and  Perforated reflective tape. You can choose from these as per your requirements.
What should I know before ordering reflective tape? What are the most important things to consider?
Before you place your order, you need to have a clear idea of your requirements. Also, you need to know about the different types of tapes available so that you can make an informed choice when picking the suitable fabric to meet your needs. Consider the washing performance, color, backing fabric, and reflectivity of the tape in detail. Further, you need to have the required customization listed down, after which you can place your order.
What are the primary materials used by YGM to create reflective tapes?
Glass beads are the crux of the reflective material manufacturing industry which is the exact technology used by YGM too. We use top quality glass beads to create the reflective tape base.
This base is then coated with an aluminum reflector, upon which you have a layer of an industrial adhesive agent. In the last step, the backing fabric is added to the industrial adhesive agent, and the reflective tape fabric is ready to use. A few steps in manufacturing reflective fabric stripes may vary slightly from type to type, but the majority of the process remains the same.
In which different areas are reflective fabric tape used?
Its adaptability with a wide range of fabrics is what makes reflective fabric tape so popular. You can use it for safety as well as fashion purposes. You can also add this tape to accessories such as hats, belts, boots, and bags. The whole idea of reflective fabric tape is to increase visibility, but it can also glam up your regular clothing.
6.What is the requirement of reflective fabric tape?
We have listed down some of the many reasons why you need to opt for reflective tape fabric right away:
This tape is fit for tough usage and is durable enough to resist damages caused by industrial washing. Some of the variants are even water-and-dust-proof. These tapes are also resistant to high and low temperatures. This makes this tape suitable for long-term usage.
Reflective fabric tapes are extremely easy to cut and affix. You can use any cutting equipment ( a pair of scissors or a laser cutting machine) to cut designs as required. Further, to fasten the tape, you can simply sew it on or use the hot press method, and the tape will securely stay on the fabric of your choice.
With this reflective fabric tape, you can instantly glamourize your outfits and make them look super trendy. The fact that nowadays reflective fabric stripes are available in several colors, makes them all the more usable for creative purposes.
Is YGM a manufacturer of reflective fabric tape? How can I place my order with YGM?
The size of the reflective fabric tape is an essential aspect you need to keep in mind before ordering the tape. The regular tapes feature a width varying from  1 cm to 5 cm. This, too, is totally customizable. The maximum width of the tape hovers around 140 cm.
Can I place a custom order with YGM?
Yes, of course, you can. We are always up for unique requests from clients and working a way around turning even the most complex of all demands into reality. We can customize every aspect – right from the size, pattern, aperture, and even texture to meet your requirements. All you need to do is precisely let us know , and our engineers will take care of your order.
What is the lead time required by YGM to manufacture my order of reflective fabric tape?
Our lead and delivery time ultimately depends on your order specifications. Having said that, our typical delivery time spans between 25 to 35 days. We consider urgent requirements and can cater to the same, thanks to the enormous capacity of our factory. Upon confirmation of the order, you will receive a final lead time confirmation from our team.
Can I get free samples for reflective fabric tape?
Yes, we do. If you are interested in placing a wholesale order with us, we offer free samples. Let us know your sample requirements, and we will deliver the sample free of cost (you would only have to bear the shipping charges). Once you are assured of the quality and confirm the order, we will deduct the shipping charges from the total order amount.
How long would I have to wait for my order to process? Or is the inventory of YGM well-stocked?
This is entirely dependent on which product you order. We do have most of the product in stock, but if you have a personalized requirement, we would require time to manufacture the order. Irrespective of what you order, we still ensure a lead time of 25 to 35 days. It's best if you have a word with our service team for a better idea of the time required to process the order. They will also help you with details of the current inventory of available products.
Are YGM products always available and in-stock? Do I need to pre-order and await new stock for months after ordering?
Based on the product and its dimensions, you'll find that YGM has the capacity to keep most products in stock. In case you have a custom item, we still offer a quick lead time of 25 to 35 days.
We suggest you talk with our customer service team ASAP to get a clearer idea of the lead time besides the availability of products of your choice.
How does YGM maintain the quality of products? What are the quality control measures used by YGM?
Quality is something we don't compromise on at all. To assess the quality of the products we roll out from our factories, we have stringent QC measures in place in our factory:
●       Reflectivity: Reflective quotients of each reflective fabric stripe vary. We have high-end QC equipment to ensure ideal quotients are maintained.
●       Washing performance: All our products are tested considering industrial washing standards. Every product has three certifications –  ISO 6330, ISO 15797, and ISO 3175, which are mandatory washing standards certifications.
●       Glass beads:  Reflective tapes are nothing without glass beads. To check the quality of the reflective tape fabric, all you need to do is rub the fabric against your hands slowly. This would reveal the underlying glass beads.
●       Surface: You can also thoroughly check the fabric for any type of damages like scratches. You can be rest assured about the quality of our products and confirm the same with the free sample we offer.
●       Flame retardant: Do note the fire resistance level of the reflective tape and then proceed to use it in dangerous situations. We have tested the products for flame retardancy and ensured the same is clearly visible on the product packaging.
How are reflective fabric stripes for clothing tested for quality?
 Each of the above-mentioned reflective tapes comes with different specifications. This also means that their quality checks would slightly differ from each other. We have listed out the quality check measures for some of the most popularreflective tape fabric types:
Silver/high visibility and Ordinary Reflective Tape
Reflectivity can be ascertained with the help of special measuring devices. The washing performance of the reflective tape is tested as per industrial standards, whereas, for the glass bead test, all you need to do is rub the fabric with your hands to reveal the underlying glass beads. Further, you need to look closely to spot any type of damages or blemishes.
Flame Retardant Reflective Tape
Apart from the standard QC tests, this tape also undergoes an additional test, wherein its flame retardant performance is tested. In this test, the fabric is tested against live-fire too.
Like the above tape types, this tape has similar measures to test the quality of the products we manufacture. The only varying factor is the test of the release force, which is tested in the manufacturing unit with the help of a special testing machine.
How can I use reflective fabric tape on fabric and clothes?
The fabric is super easy to use – simply cut it with the help of a knife, scissors, or laser cutting machine. To affix the tape with two methods:
Sew on: There are certain tape types that are not heat resistant. For these, you need to use the sew-on method. In this method, you have to stitch the tape onto the desired fabric.
Hotpress: Simply use the heat from a hot press iron to secure the reflective fabric tape on the choice of material.
What is reflective fabric tape composed of?
The backing fabric is chosen based on the type of reflective tape. Generally used backing fabrics are tetron cotton, PET film, polyester, spandex, cotton, and aramid.
How long does reflective tape stay secure on clothing?
The fabric of the tape is a lot tougher than regular fabric, which is also why reflective tape is typically resistant to extreme dust, water and weather, and other natural wear and tear. It's built to last longer than the fabric of t-shirts and other cloth fabrics. All you need to do is avoid scrubbing the reflective tape excessively when washing the clothing.
What are the different uses of reflective tape today?
Reflective fabric tapes for clothing are fashionable and offer visibility for safety too. Other than safety workwear, where it is commonly used, you can also use it to create fashionable clothing, vacation wear, and adventure clothing. It is also used essentially on lifejackets and sportswear too.  Reflective tape is used in home decor as well, and you can add it to home decor items like indoor and outdoor upholstery.
Are reflective sheeting and reflective tape different? If yes, what are the main differences between them?
There is a difference between reflective sheeting and reflective tape – two terms that people tend to use interchangeably. Let's find out the two main aspects that differentiate reflective sheeting from reflective tapes.
●       Application: Reflective sheeting is an adhesive sheet and is often used for marketing purposes. It is widely used to create signboards and traffic signals. On the other hand, reflective tape can sewn-on or simply affixed by applying heat and is mainly used on different fabric types.
●       Backing fabric: Reflective sheets feature two varieties of backing fabric – Acrylic or PET. However, the  reflective fabric tape is produced with different fabrics – pure cotton, spandex, TPU, tetron, and others.
20.What are the different certification standards to be maintained for reflective fabric tape? How often are they updated?
Certifications are an assurance of the quality of our products, and we have made sure each of our reflective fabric products meets industrial requirements. We renew these certifications regularly too. Let's have a look at these mandatory certifications.
EN ISO 20471: This standard regulates the reflection quotient of reflective fabric stripes. It has further categorized into three types Class 1, 2, and 3.
Oeko-Tex Standard 100: This certification ensures the safety of humans as well the environment when sourcing the raw materials we require for manufacturing our products.
ANSI 107: This certification ensures usage control of reflective fabric tape.  It is categorized into three classes such as Type O, P, and R.
UL: This one is specific for flame retardant tapes only. UL uses approved labs to carry out the flame retardance testing of reflective fabrics.
How are reflective fabric tape iron on and reflective tape different from a sewing perspective?
There are two main distinguishing facts when it comes to reflective tapes and heat transfer vinyl materials. We've explained the same below:
●       Uses: You can mold reflective fabric tape iron on into different patterns and sizes with the help of a laser cutting machine, a pair of scissors, or a knife. You can then hot press these cutouts on your fabric. For reflective tape, however, you have to sew it onto the fabric of your choice.
●       Backing fabric: This element is the last layer of the reflective fabric tape. It is applied after the first three layers (glass beads, aluminum, and adhesive layer). Reflective HTV features fabrics like TPU and PES. On the other hand, reflective fabric tape can be made from a wide variety of fabrics.
How do I know the reflectivity offered by a reflective fabric tape type?
Reflectivity varies basis the type of reflective fabric tape you pick. This is also why you need to have ample knowledge about the reflectivity quotients of different fabrics. Silver, flame retardant, and elastic reflective tapes offer reflective quotients spanning 400 to 500 cd/lx/m² on an average.
The ordinary and high visibility reflectivity HTV reflective tapes have the least reflective quotient, with the reflectivity ranging between 10 and 30 cd/lx/m² on an average. The luminous reflective tape offers a reflectivity of 8000 Mcd/m², which is the highest amongst all other types.
What measures can I take to make sure the reflective tape stays intact for a long time?
When you receive your consignment, the first thing you need to do is pull out the instruction manual and go through it thoroughly. This manual includes instructions as to how you need to wash and maintain the reflective fabric tape. Some of the standard precautions you need to take are – maintaining the washing temperature as per the manual, avoiding pre-soaking, bleaching, tumble drying the fabric. This ensures that the tape stays put for a longer time.
How does YGM package the reflective tape orders?
Reflective fabric tape: We stack the tape rolls and cover them with a polyester cover for extra protection. This is then placed in a strong box, just as it appears in the picture below:
Reflective HTV: The HTV tape is packed using a different method. Every roll is packed in separate boxes with fillers. This is done to avoid damage, which is a possibility due to rash movement during shipping. The below image shows the packaging of HTV tape:
How much is the monthly production capacity of YGM for reflective fabric tape?
Our lead time spans from anything between 25 to 35 days. We have a monthly production capacity of 5 million square meters of reflective fabric tape. With our minimal lead time and huge production capacity, we are always in a position to cater to your bulk orders and wholesale requirements.
So what are you waiting for? Place your order with us right away!